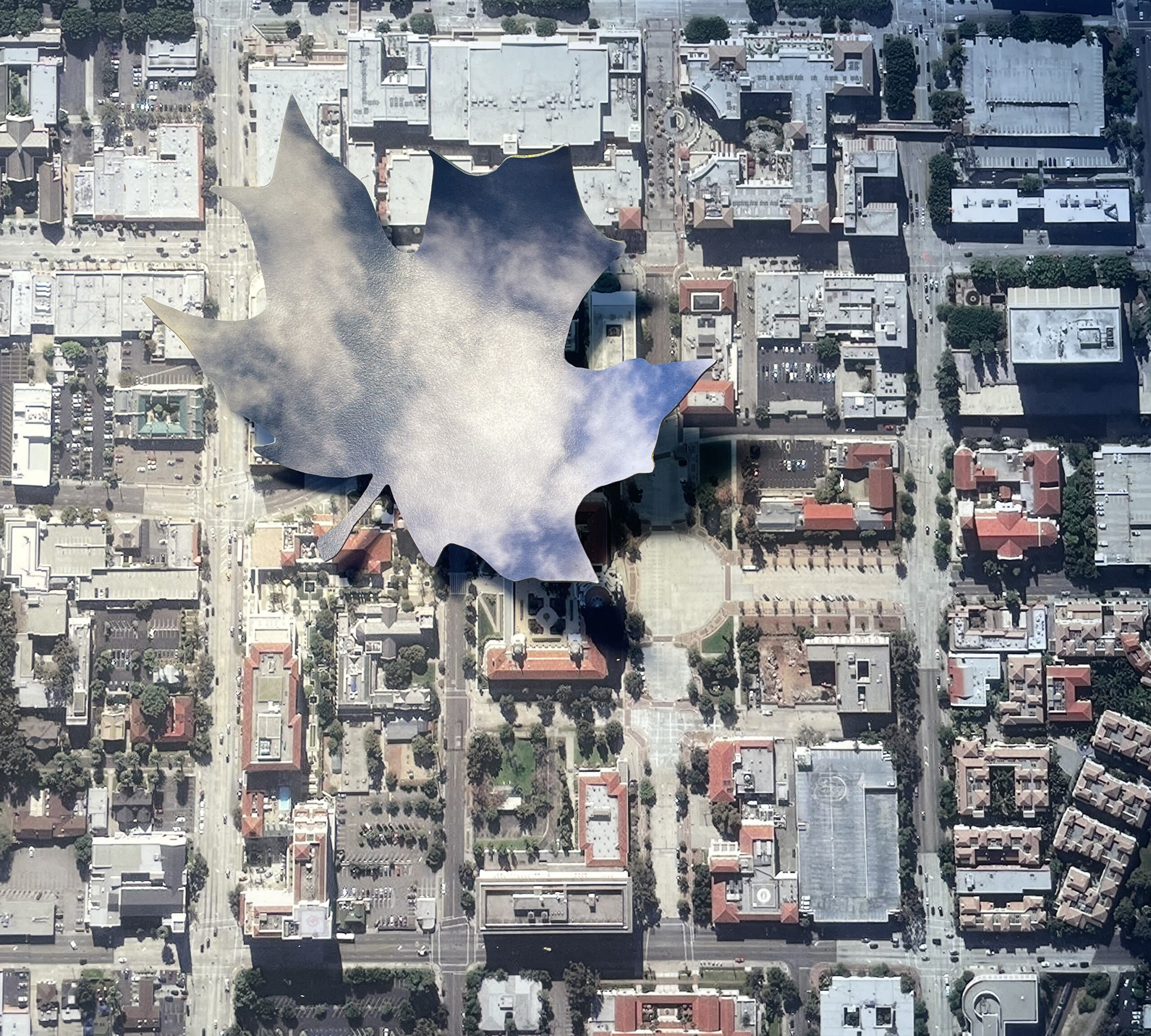 Sky Leaf (Downtown Los Angeles Sky Over Pasadena)
2015/2021
3-dimensional leaf (hand-sawn and formed aluminum with infused dye sublimation) mounted on an ultrachrome print
Description: "Since 2015, I've been working on a public artwork, Sky Leaves, featuring leaf forms from the oldest living trees found on our planet, and surfaced with photographs of skies from their regions. Sky Leaf (Downtown Los Angeles Sky Over Pasadena) is an extension of that idea and imagines the movement of a leaf carrying a segment of the sky.
Many of the series that weave through my studio practice are natural progressions of my environmental work called Smog Collectors. Innovated in 1987, Smog Collectors use smog's particulate matter to create images. I'm forever struck (if not jolted) by the atmospheric effects of air pollution and the idea of the global, contiguous sky. My artworks charting the sky began in 1993 when I duplicated in paint, the color of the same spot of sky for sixty days. The work culminated in an installation entitled, Sky Patch. In 2012, I started work for the ongoing series Shared Skies. Trading with people around the world, a sky photograph is offered in exchange for a print featuring their sky with those of other participants. The series has involved Polar Educators International as well as schools and colleges and communities. A permanent installation at the Anderson-Munger YMCA in Koreatown/Los Angeles includes suspended back-lit skies, a 20-ft ellipse of woven skies, and a legend identifying each sky location and the name of the photographer. In a global sense, we can imagine an interrelatedness through a seamless sky and observe the effects of our environmental choices. From the Salt Flats of Bolivia to Grand Forks in the United States, and Maasai Mara, Kenya to Pine Ridge, Oglala Sioux Tribe, our skies portray the connected parts of our place on this earth. If one does not love the world, that same person will not imagine a need to protect it."