The Love of Alma (1991-92)
Alma Schindler Mahler was a composer but is historically remembered in relation to the men she loved, among them are Oskar Kokoschka, Franz Werfel, Gustav Klimt, and Walter Gropius. One of her husbands, Gustav Mahler, requested before their marriage that Alma stop her own work as a composer. Many years later, Gustav dedicated his Eighth Symphony to her and filled her bedroom bursting with roses to repair his guilt.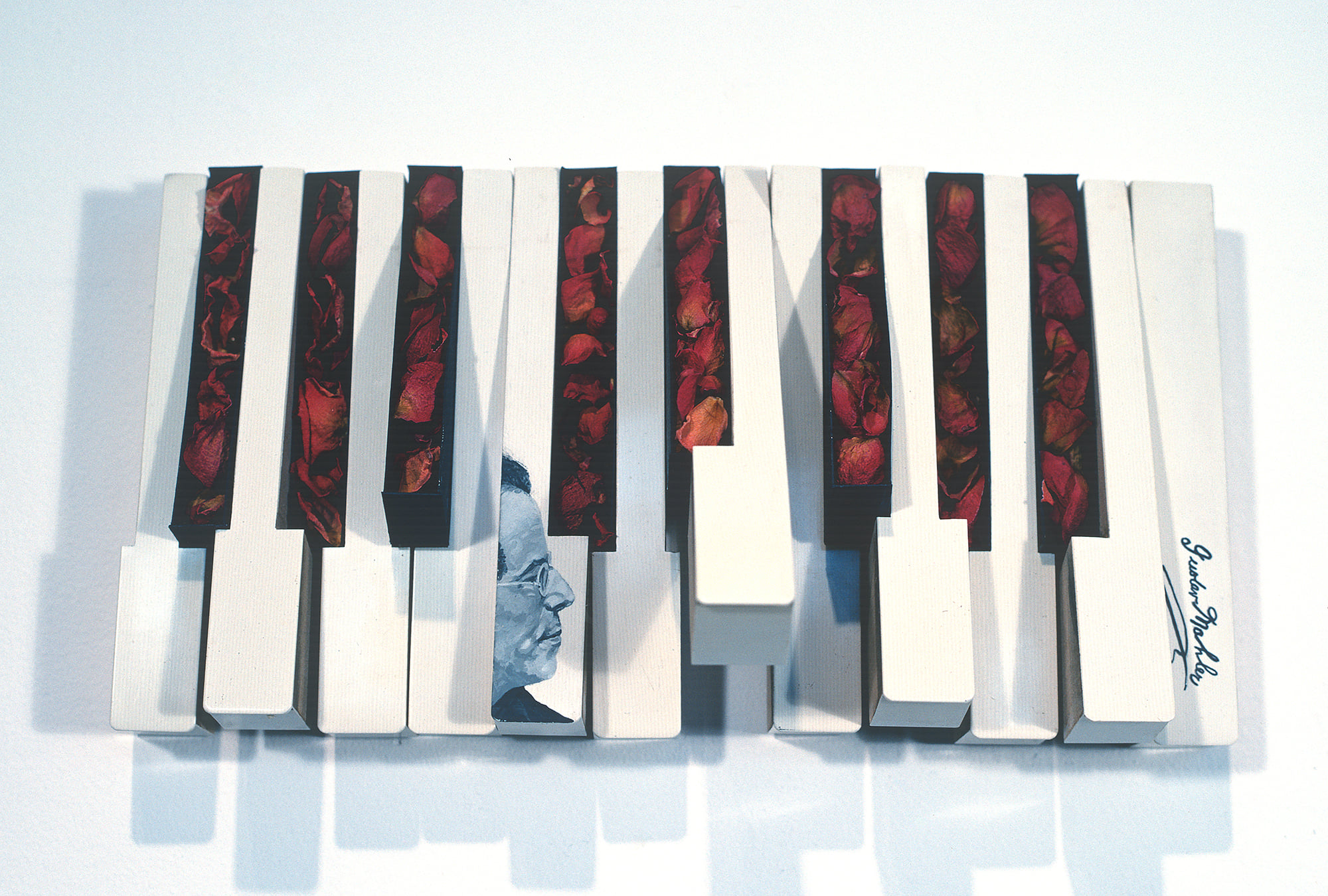 Evita As Official Portrait; As Madonna; As Fay; and Cinderella as Evita (1997)
Evita's story evolves as the personal transformed into the status of icon and the commodification of an individual. Eva Perón is no longer herself, but instead, Madonna or Faye Dunaway. Her story is the Cinderella tale of the girl born into poverty who marries the prince who is the president. Complete with the overabundant beauty of a Disney color palette, she changes wardrobes, from a drab outfit in gray and neutrals to the fluff of netting in pastel pink, baby blue, and honeysuckle yellow. Evita, with the photographic regality of Jackie K. or a Princess of Hearts, helps Christian Dior gowns to float along the tiers as troupes of political penguins with cummerbunds flank her side. Crowds daze longingly. The satin pillow that holds the solid glass shoe materializes the World of Walt, and its tassels dangle copper pennies turned into gold with enamel paint. Rags to riches! Robin Hood! "Don't cry for me, Argentina" reverberates from aerobics classes in Hollywood where men and women leap and squat to a disco beat.
In contrast to Eva Perón as celebrity, or as her best use of that celebrity, she is instrumental in the success of the suffrage bill for women's right to vote in 1947. She also works tirelessly in her creation of programs to help the impoverished. Her difficult childhood gives her a depth of understanding for those in need. Evita is officially titled, Spiritual Leader of the Nation.
The tagged coins that appear on the mantel of the installation contain Evita's signature and her quote:
"If God gives me back my health, I will never wear jewels or beautiful dresses again. Nothing but a skirt and a blouse."
Eva Perón's debilitating cancer causes her to wear a plaster corset to prop her body upright during processionals. This is in contrast to the Dior gowns she loves to wear at events. Tears and tears made out of mink. Don't cry for me! In life and beyond.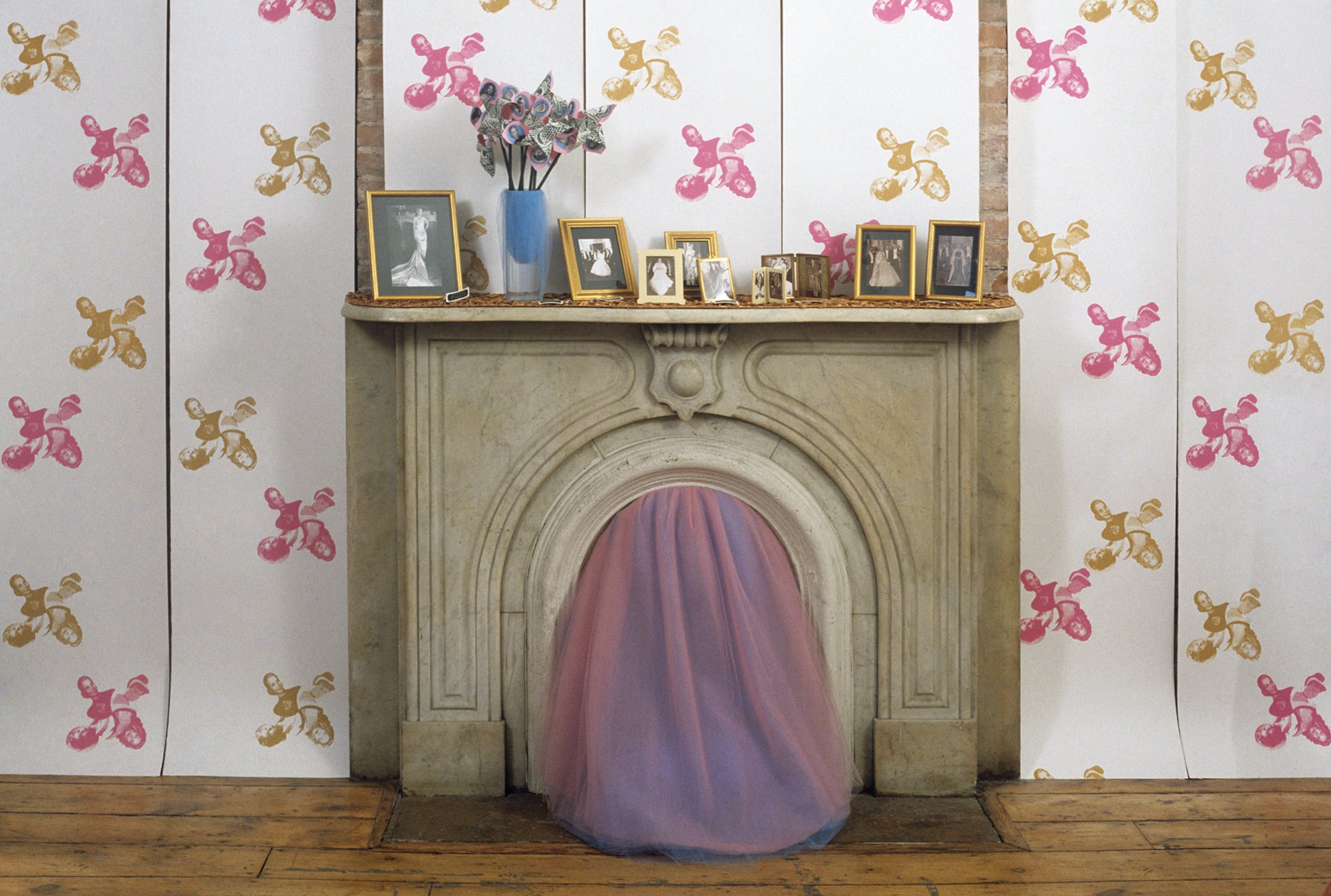 Legend for a Reanimated Woman (1999)
I built a woman created from representative parts of women in history who have inspired me. The subjects include women from various disciplines including Rosa Parks (activist), Aimee Semple McPherson (evangelist), Huang Dao-Po (adventurer), Gertrude Stein (writer), Catie Greene (inventor), Grete Fidel (visual artist), Eva Perón (political leader), Beryl Markham (aviator), Carmen Miranda (performer), and Alice Eastwood (botanist). There is also one man, Kosai Kobari (priest). Each individual is visually described by a body part created in copper and mixed media imagery that reference the life. The legend for the piece is a satin-lined, copper sarcophagus housing the cavity cast from my body and contains elements from each person.
To Sit As Ladder (In Honor of Rosa Parks)  1991
This sculpture describes the life of Rosa Parks, the civil rights activist who is known as the "Mother of the Movement." She is well known for her courageous act of confrontation to the bus segregation laws. On December 1, 1955 in Montgomery, Alabama, Parks was arrested for refusing to give up her seat to a white man. Her legal battle and the subsequent bus boycott gave rise to the Civil Rights Movement and its leaders. This sculpture offers a timeline of events that led up to the important day, tracing Rosa Parks' history of activism.
The artwork is composed of multiple chairs to create a ladder. The base is a radiator. The photograph of Rosa Parks is courtesy Ebony Magazine. "To Sit As Ladder (In Honor of Rosa Parks)" and the drawing, "Montgomery, Alabama" are in the collection of the California African American Museum, Los Angeles.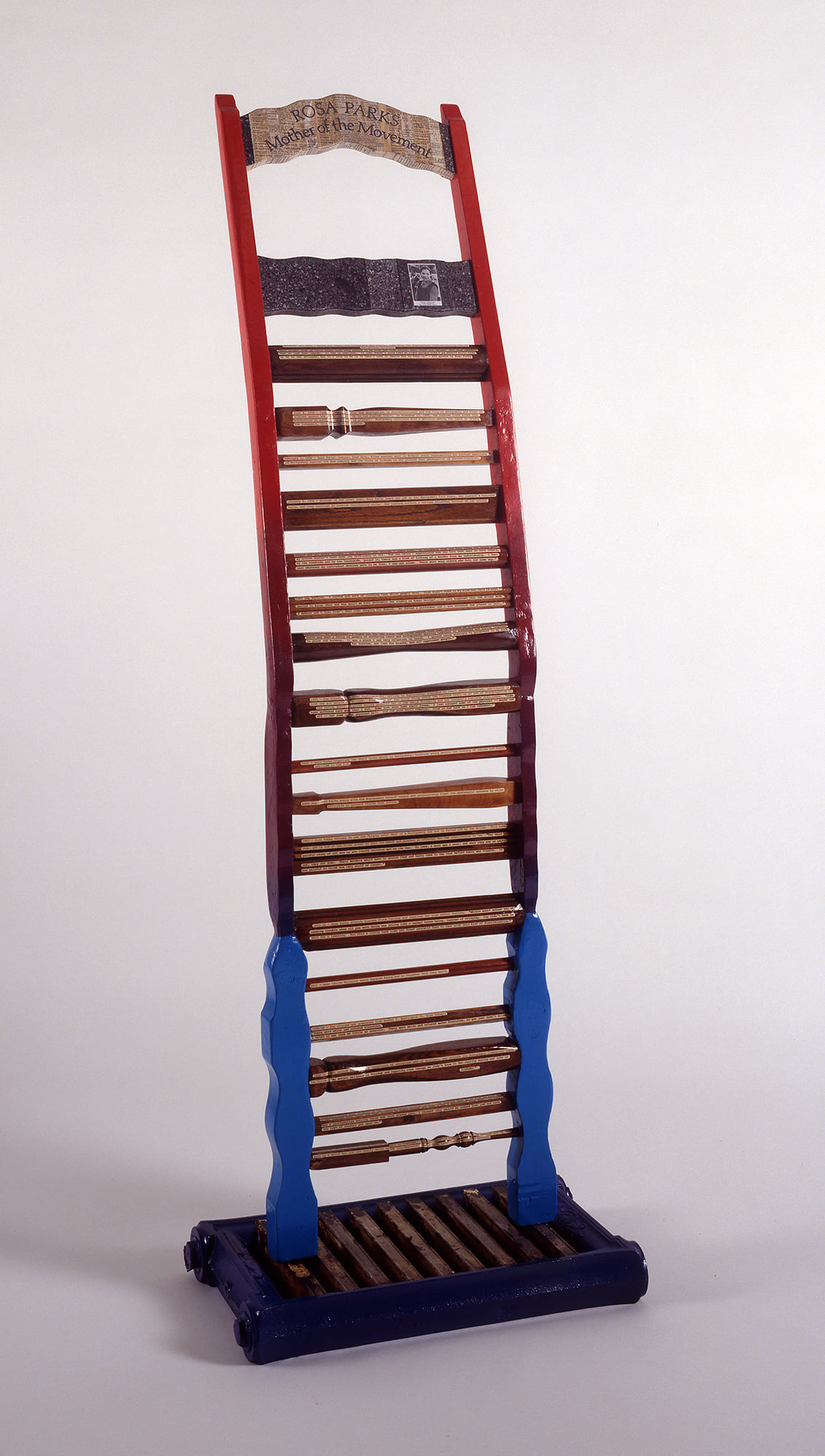 Carmen Miranda  (1997)
By the 1940s, Portuguese-born Brazilian actress Carmen Miranda became the biggest box office hit for 20th Century Fox, and the highest paid of any performer in the United States. During World War II, Miranda was used by the U.S. government to help stimulate diplomatic (economic) ties with South America. Her music, dance, and unforgettable costuming, inspired by the dress of Bahia, evolved into the caricature which confined her, causing her creative spirit to be twirled into controversy and depression. Her highly visible connection with Hollywood and her notoriety used as a pawn for U.S. imperialism, ultimately caused her fellow Brazilians to detest the political repercussions of her actions. During one engagement when she returned to Brazil, she was forced off the stage with a shower of rotten vegetables. The eyes of the soul are not available to us as viewers, but only the packaged smile for our pleasure.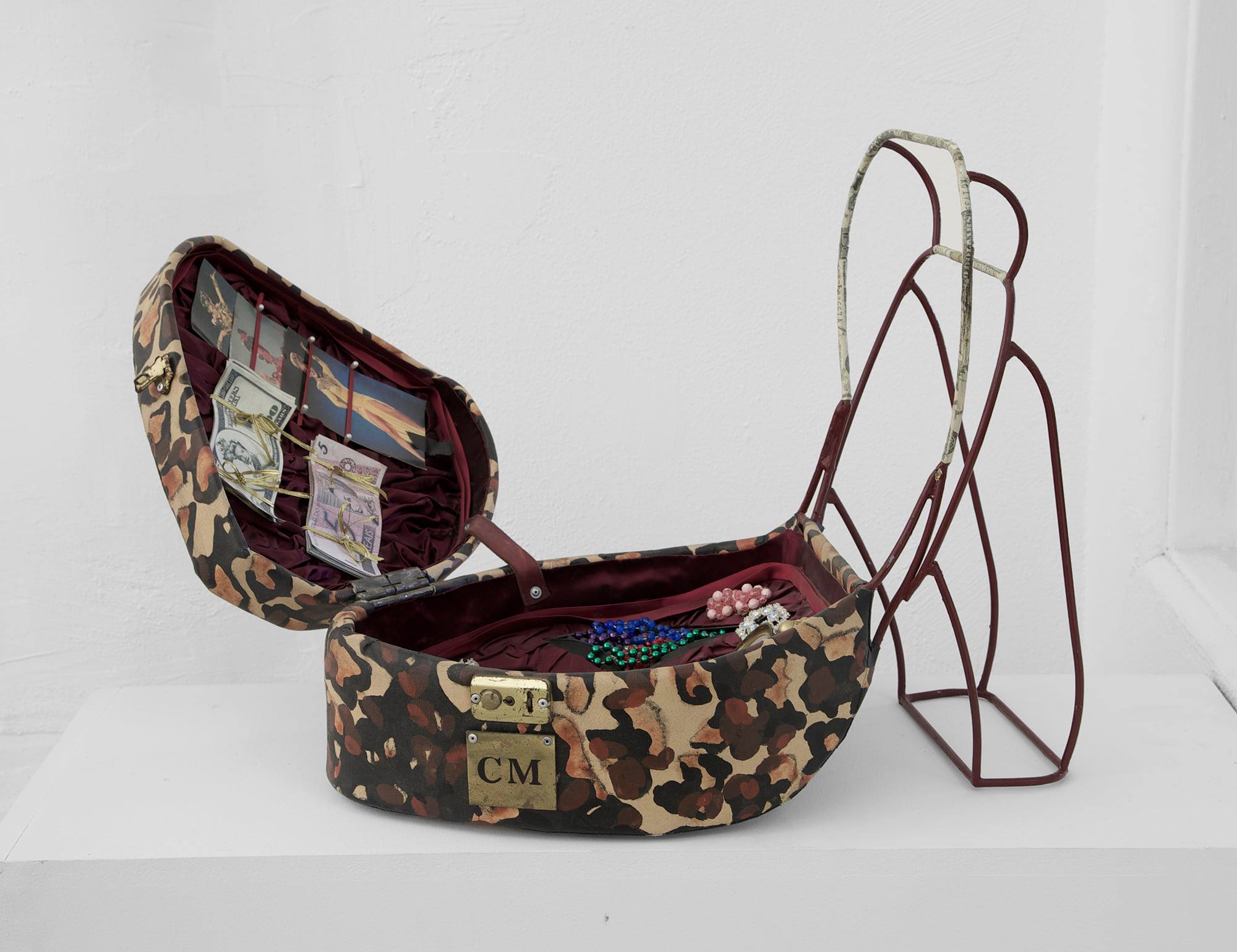 The Image of St. Bernadette  (1987)
In 1858, at the age of fourteen, Bernadette Soubirous (1844-1879) saw the Virgin Mary. Bernadette, the daughter of an unemployed miller and an overworked mother, lived in a condemned jailhouse. The city officials of Lourdes refused to house prisoners in those conditions. She was a beautiful girl, described as "womanly" by Franz Werfel in his book, "The Song of Bernadette".
On the chilly morning of February 11, Bernadette and her friends went to look in the woods for bones to sell to the rag-and-bone man. She wandered away from the others and came upon a cave-like recess where she sat down to take off her wet socks. There she saw the Virgin Mary, or the "lady" as Bernadette referred to her. The girl thought this Lady to be more elegant than any earthly possibility. "When you have seen her once, you just long to die so that you can see her again."
Pilgrims came steadily from all around, stopping with their chores to see the girl with the maze-patterned dress. It was well known in the countryside that Bernadette would see the Lady with the white gown and blue sash on fifteen more occasions. And indeed, she did. At the same time, she was subjected to examinations and cross-examinations by doctors, city officials, and the Church.
Ultimately, skeptics became believers. During the Apparitions, Bernadette's face transformed, her skin became tight and translucent against her skull. She reflected the sight she saw, and in her eyes one could see the eyes of the Virgin. As the number of believers increased, vendors became merchants selling bits and pieces of the story. Like the artist, she was seen as both visionary and freak.
Lourdes today is one of the largest religious tourist sites in the world. Millions of pilgrims and curious spectators come to the curing waters of the grotto each year. Though many of the methods of presentation for this series reflect the commercial attitude toward the apparitions, there was one intention that I strictly followed: to retain the dignity and beauty of Bernadette. To see or make an image over and over is to absorb it through the skin.
Taking Back Jeanne d'Arc  (2016-17)
During late fall 2016, I had the chance to travel throughout France to search for some of the sites important to the Jeanne d'Arc story. I walked twelve miles on a pilgrimage to her birth home in Domrémy.
A specific aspect of the Jeanne d'Arc story that interests me is that her image has been created hundreds of times in paintings, sculpture, and film, and all these well-known versions are created exclusively by men. These iconic portraits continued to be usurped as an image of the patriarchy and nationalism.
There is, in contrast, a single sketch of Jeanne that was drawn on the margin of a court document during her trial. It is a very simple, humble drawing, and is in contrast to the myriad of renderings created centuries after her death through the eyes of the male gaze.
Jeanne d'Arc's faith is unstoppable, profound, and lives beyond her life. As a woman, she pushed past her expected roles in society, by virtue of her focused intention and a pure heart. That heart, in fact, did not burn in the flames of her pyre. Along with her ashes, her heart was thrown into the Seine River by her judges to eliminate a faithful following. Hundreds of years later, the devotees follow her anyway.