Biography
Kim Abeles is an artist whose artworks explore biography, geography, feminism, and the environment. Her work speaks to society, science literacy, and civic engagement, creating projects with the California Science Center, health clinics and mental health departments, and the National Park Service. Her collaborations with air pollution control agencies involve images from the smog, and largescale projects with natural history museums in California, Colorado and Florida incorporate specimens ranging from lichen to nudibranchs. In 1987, she innovated a method to create images from the smog in the air, and Smog Collectors brought her work to national and international attention. National Endowment for the Arts funded two recent projects: as artist-in-residence at the Institute of Forest Genetics she focused on Resilience; and, Valises for Camp Ground: Arts, Corrections, and Fire Management in the Santa Monica Mountains were made in collaboration with Camp 13, a group of female prison inmates stationed in the Santa Monica Mountains who fight wildfires. She has received fellowships from the Guggenheim Memorial Foundation, J. Paul Getty Trust Fund for the Visual Arts, California Community Foundation and Pollack-Krasner Foundation. Her work is in forty public collections including MOCA, LACMA, Berkeley Art Museum, Brooklyn Museum, California African American Museum, and the National Geospatial Intelligence Agency. Abeles' process documents are archived at the Center for Art + Environment, Nevada Museum of Art.
Links to articles & info about Kim Abeles' work
The Atlantic Magazine article by Morgan Ome (11/2022)
New York Times article by Jori Finkel (12/10/2021)
Artillery article by Jennie E Park (11/28/2017)
Evan Kleiman's interview with Kim Abeles on KCRW's Good Food (10/28/2017)
Abeles presentation at Getty Museum's Art & Language Arts program (2012)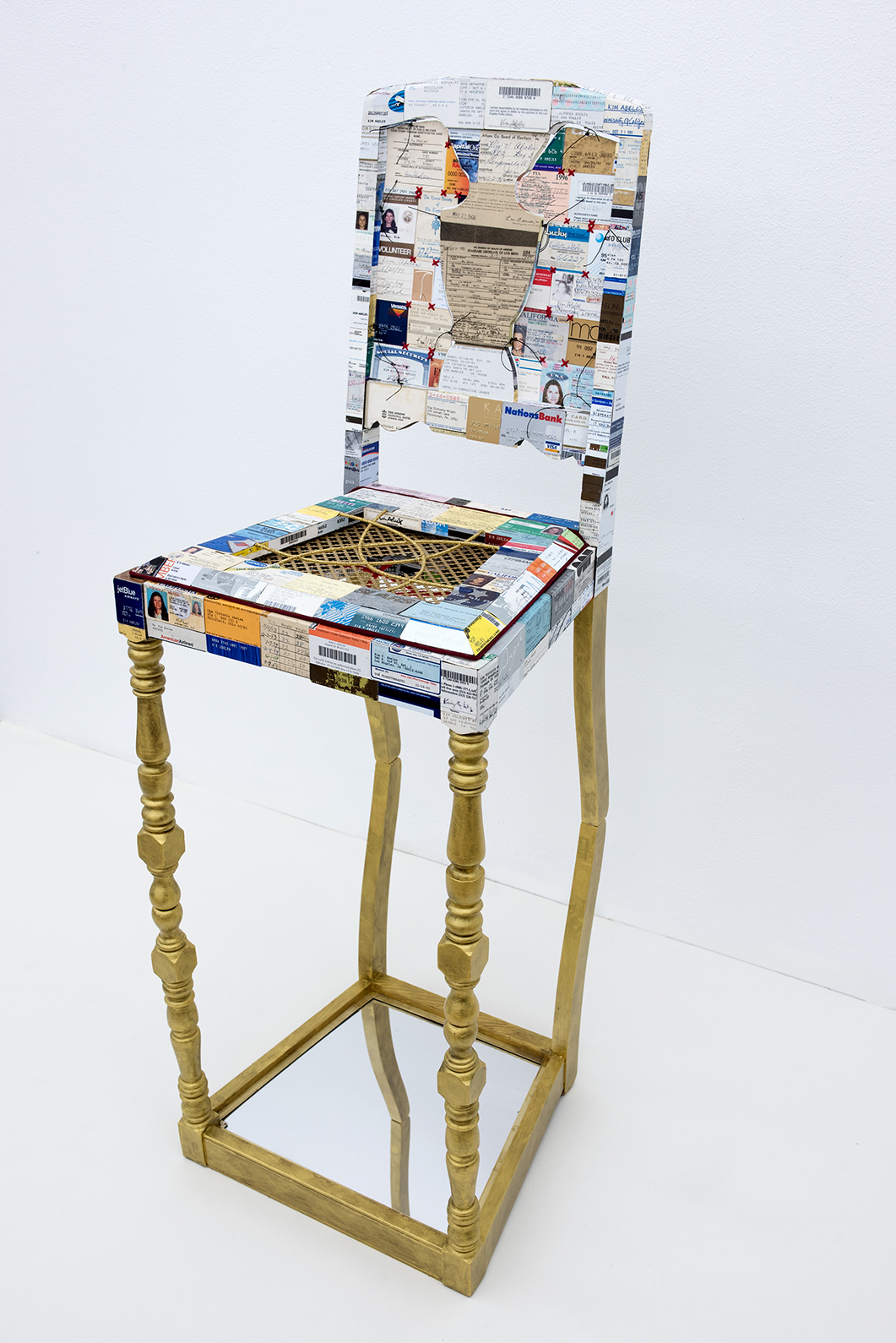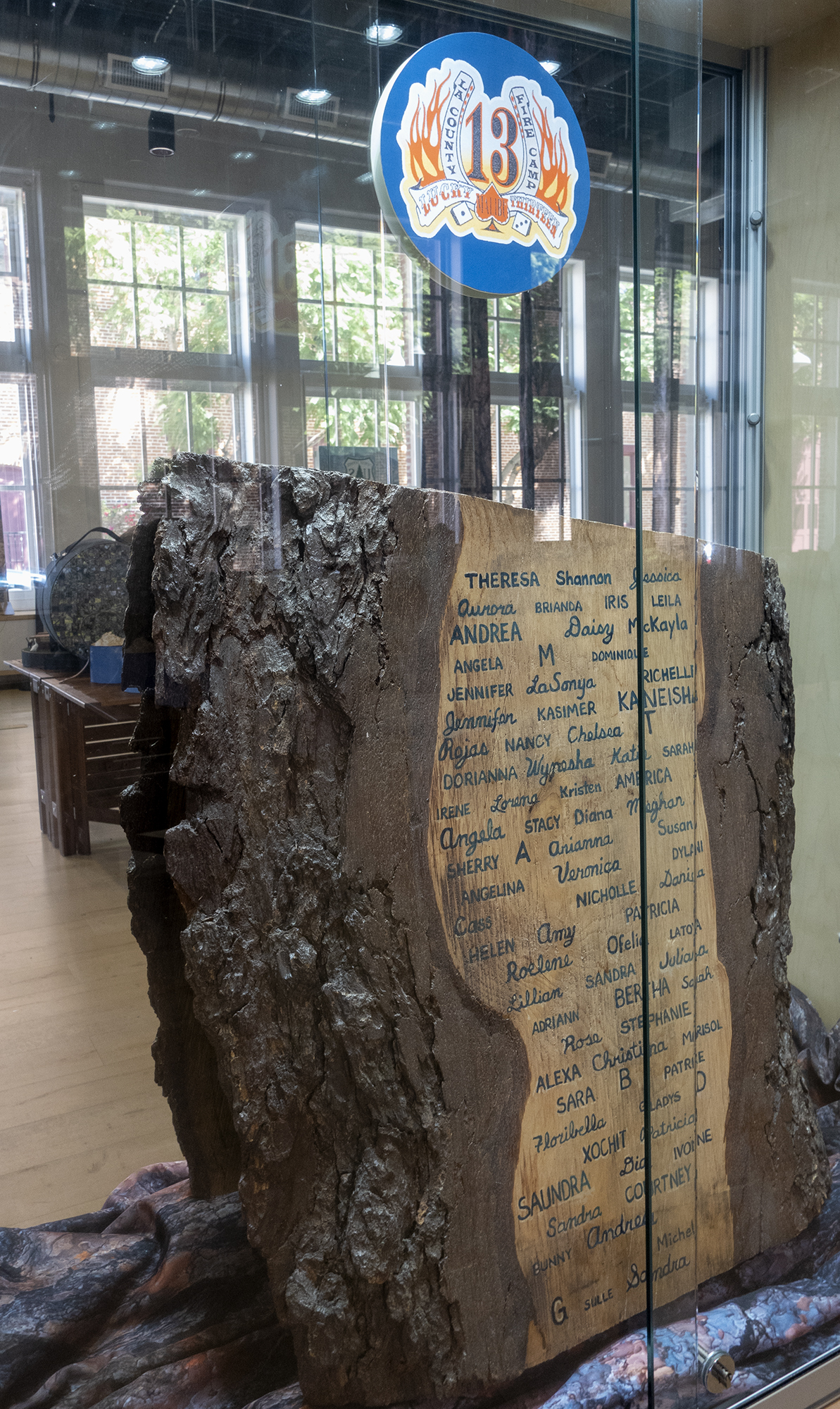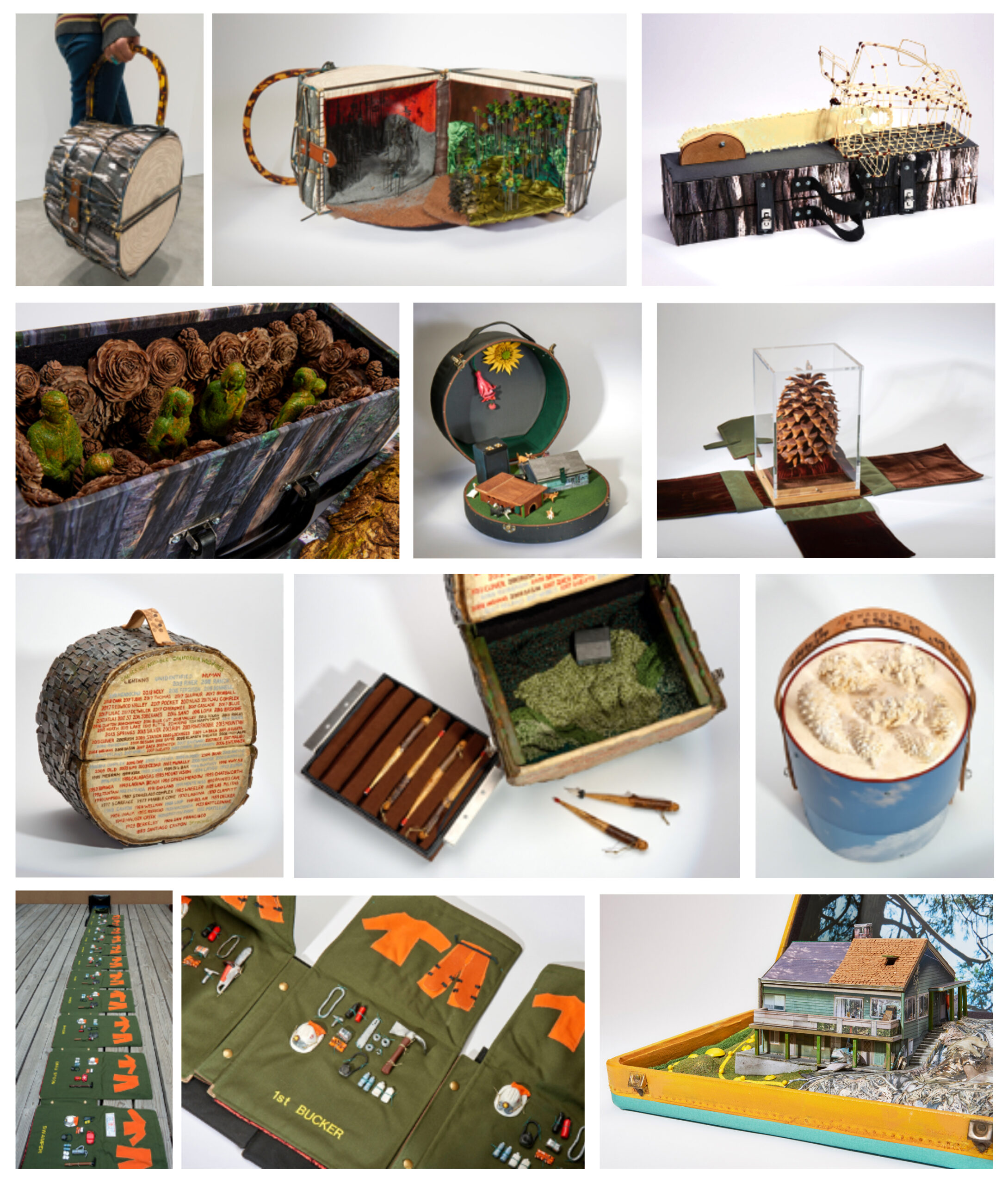 Valises for Camp Ground: Arts, Corrections, and Fire Management in the Santa Monica Mountains Funded by the National Endowment for the Arts, Los Angeles County Arts Commission, and led by The Armory Center for the Arts
The ten sculptural and instructional valises were created for use by the National Park Service and the Los Angeles County Fire Department to teach about fire prevention, national forests, and our relationship as part of nature. Each valise has a theme with specific talking points, and all of them circle back toward teaching issues about fire abatement and our connection to wilderness. These are taken to community groups, events, schools, and venues as teaching tools for discussion about causes and prevention.
The female inmates at Camp 13 who have been trained as firefighters supplied the content for the valises through their experiences with firefighting and fire abatement. The process was organic in the sense that there was a two-way conversation between Kim Abeles as artist-in-residence and the inmates for the development of the valises. Along with the talking points, the firefighters also responded to the artistic, content-driven outcomes. Participants worked alongside as well as with the artist on the elements of the valises. In this way, learning a variety of sculptural skills was an aspect for the workshops, and important to the process,  the women also taught each other while sharing skills.
Link to a more detailed description of project and images of all ten valises
Link to Liz Ohanesian's article in Los Angeles Magazine, "This Artist Enlisted Female Inmate Firefighters for a Show about Our Fragile Environment."
Americans for the Arts honored the project that embedded Abeles in Los Angeles County Fire Department's Malibu Conservation Camp #13. You can link to the award information here.
And link here for a blog post written by Abeles for the American for the Arts.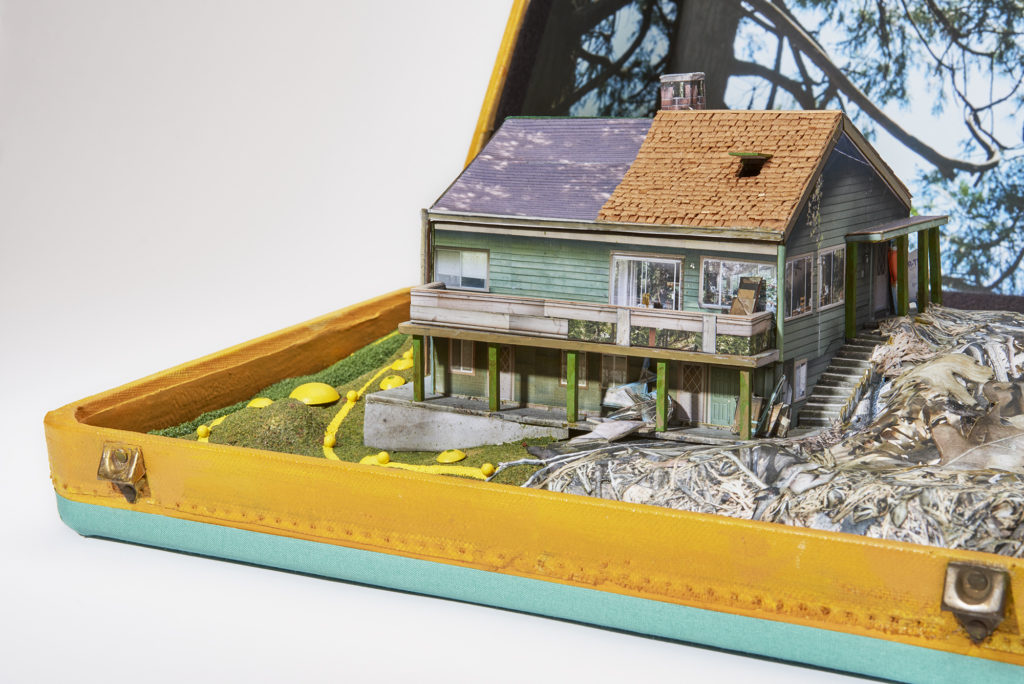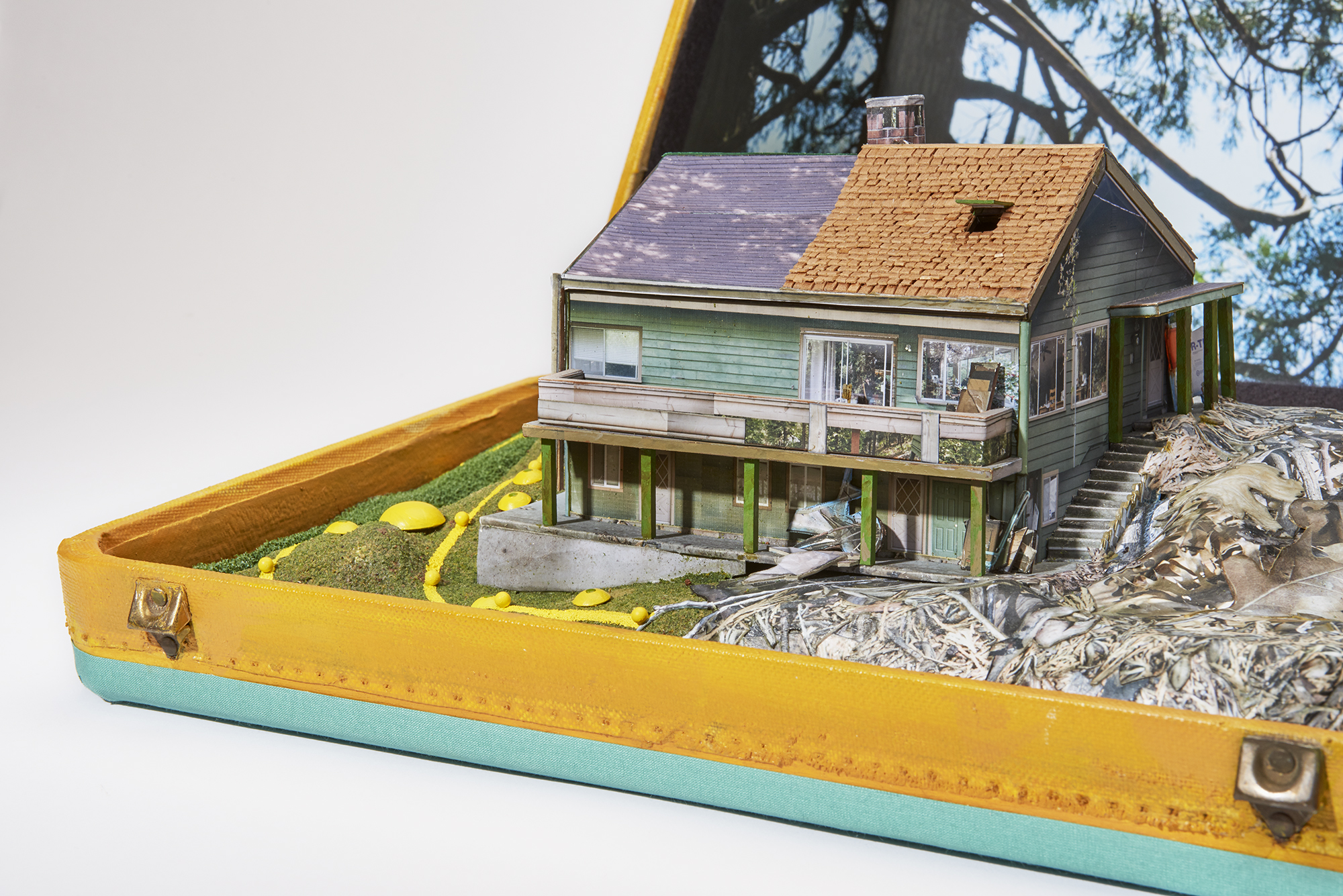 SOLO EXHIBITIONS IN 2021-2023
COMING UP  Kim Abeles: Social Furniture, Ronald H. Silverman Fine Arts Gallery, California State University Los Angeles; September 14 - October 30, 2023
ON VIEW CURRENTLY  Kim Abeles: Smog Collectors, 1987-2020, Library Gallery, California State University Sacramento; January 31 - May 20, 2023 Gallery Hours: Tuesday - Friday, 10AM - 4PM and Saturday, Noon-4PM   Artist talk: The artist talk with Kim Abeles has been rescheduled for Tuesday, April 11, 2023, Noon-1:30PM, at the Cottonwood Suite I (second floor), in the University Union.  Link to photos of the exhibit
Kim Abeles: Smog Collectors, 1987-2020, Curated by Jennifer Frias, Nicholas and Lee Begovich Gallery, California State University Fullerton; September 18 -December 18, 2021.  Link to press release
The book, Kim Abeles: Smog Collectors, 1987-2020 is now available at amazon.com and bookshop.org.
The book is 140 pages full color with a stunning design by James P. Scott. It includes a Foreward by Jennifer Frias, Director/Curator, Nicholas + Lee Begovich Gallery; "Counting Ashes" by William L. Fox, Peter E. Pool Director, Center for Art + Environment, Nevada Museum of Art; "Kim Abeles' Environmental Art: Process, Poetics and Pedagogy" by Karen Moss, Director of USC Roski, Professor of Teaching, Critical Studies; and my essay, "Smog Collectors for Community." The topic sections were written by Director Frias and Rachel Kaufman, MA candidate in Art History, CSU Fullerton.
Printed by Typecraft, Inc in Pasadena. Published by CSUF College of the Arts.
The publication features over thirty years of Abeles' artistic investigation related to the environmental impact caused by airborne detritus. It examines a range of scientific data collected by the artist and its unexpected visual presentation that prompts the viewer to reconsider the air we breathe.
Kim Abeles - A Survey, Curated by Michele Ellis Pracy, Fresno Art Museum, Fresno, CA; July 30, 2022 through January 8, 2023. The exhibit and catalogue are made possible by the Council of 100 who selected Kim Abeles for the Distinguished Woman Artist Award.
GROUP EXHIBITIONS IN 2023
Southern California Contemporary Art: Gifts from the Stuart Spence and Judith-Vida Spence, Laguna Art Museum; February 4 - July 31, 2023
Technologies for Change curated by xtine burrough, SP/N Gallery, University of Texas, Dallas; January 20 to February 25, 2023
Reflections on Our Warming Planet, Curated by Lucinda Luvaas, LA Artcore at Union Center for the Arts; March 4-April 8, 2023
GROUP EXHIBITIONS IN 2022
In Nature Nothing Exists Alone, Co-curated by Chris Costan and Laziza Rakhimova, NYC Culture Club at the World Trade Center, New York
Mapping the Sublime, Co-curated by Beth Davila Waldman and Lawrence Gipe, Brand Library and Art Center, Glendale, CA
Extraction: Earth, Ashes, Dust, Co-curated by Isabel Beavers and Sharon Levy, Presented by SUPERCOLLIDER X TAM, Torrance Art Museum, CA
On Air, Co-curated by Iris de Kievith, Jo Pearl, and Annemarie Piscaer for Ceramic Art London at The Crossing at University Central Saint Martins, London
Air, Curated by Whitney Tassie, Utah Museum of Fine Arts, Salt Lake City
Reflections on Our Warming Planet, Curated by Lucinda Luvaas, Lois Lambert Gallery, Bergamot Station, Santa Monica, CA
From Sea to Shining Sea, Curated by Koan Jeff Baysa, Fellows of Contemporary, Chinatown, Los Angeles
Sky Space Time Change, Co-curated by Sharrissa Iqbal and Michael Duncan, Laguna Art Museum, Laguna Beach, CA
If Not Now curated by Gayle Paul, Portsmouth Art & Cultural Center, VA
Fire Transforms curated by Rina Faletti, Palo Alto Arts Center, Palo Alto, CA
Hurry Slowly, Carolyn Kleefeld Contemporary Art Museum, Long Beach, CA
GROUP EXHIBITIONS and PUBLIC ART IN 2021
25 plus 25 | MOLAA+AltaMed, Co-curated by Gabriela Urtiaga, MOLAA Chief Curator,
and Susana Smith Bautista, Ph.D., Director and Chief Curator of the AltaMed Art Collection, Virtual exhibition presented by Museum of Latin American Art, Long Beach, CA
Stories of the Land, Curated by Suvan Geer and Sandra Mueller, Santa Ana College Art Gallery, CA
A Place for Justice, Organized by Professor Tina Yapelli and students of Art 506: Contemporary Issues, Virtual exhibition presented by University Art Gallery, San Diego State University
NOMAD, pop-up organized by Max Presneill and the Torrance Art Museum at Del Amo Crossing
Cautious Optimism, Including Curtis Stage, Brian Thomas Jones, Hagop Najarian, Jamal Hasef, Kim Abeles, Molly Schulman, Cherie Brenner Davis, Jessica Goehring; Durden and Ray, Los Angeles
Differential Ontology, Curated by Khang Bao Nguyen; Wönzimer, Los Angeles
Citizen Seeds, Commissioned by Los Angeles County Arts and Culture; This permanent public art will be installed in 2021 along the Park to Playa Trail. The six sculptures will be placed along the entrance at Stocker Corridor and eastern section located near Kenneth Hahn Park, and along the trail to the Scenic Overlook near Culver City. The entire Park to Playa Trail is a 13-mile series of connected trails and extends to the Pacific Ocean.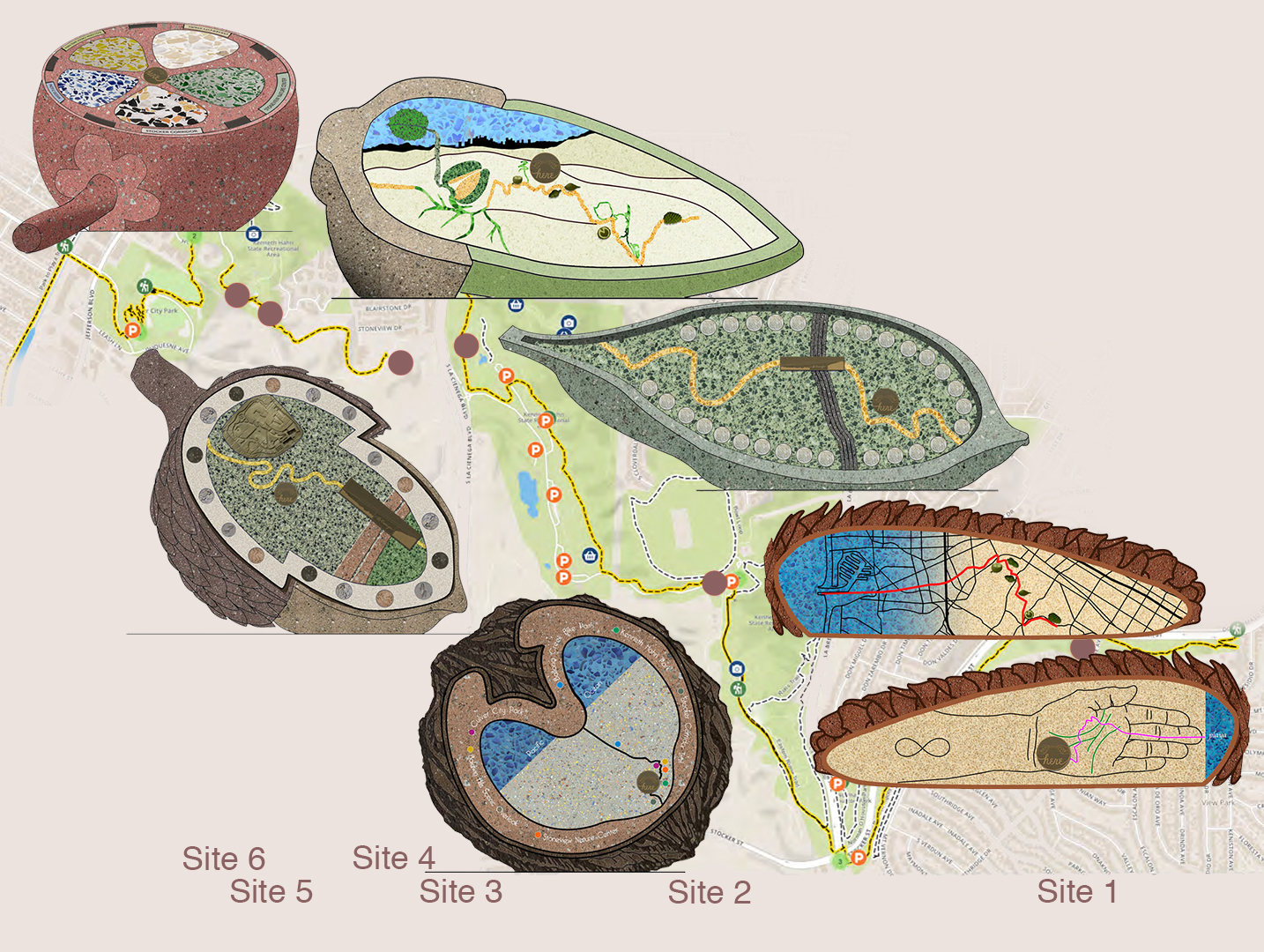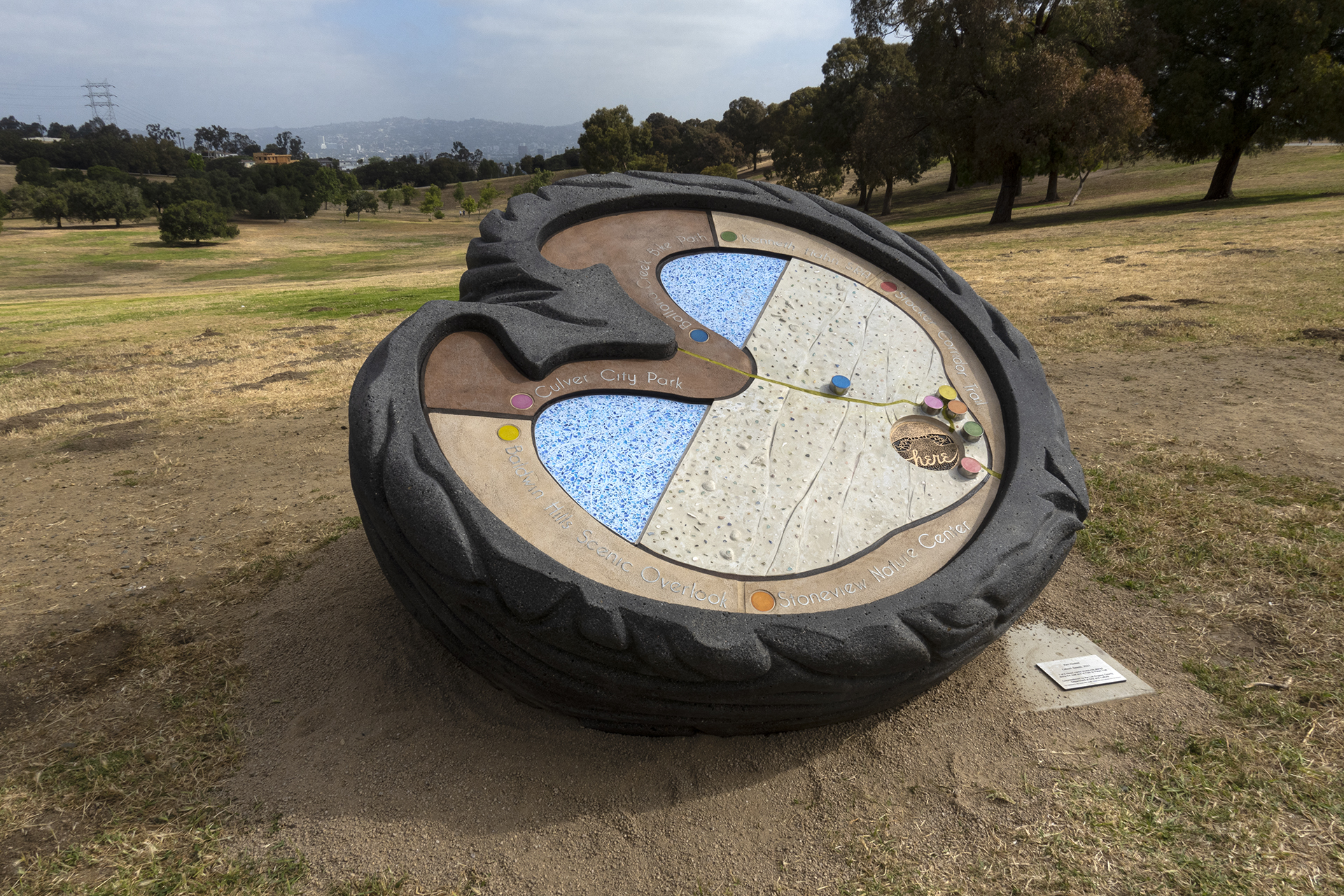 Sky Leaves (2015-2022) is presented on two locations and with two related narratives. The leaves that you see here on the North Tower depict the oldest living trees currently found on earth, and each leaf shows the sky from the place where the tree is located.
The second site on Charlotte Avenue narrates a journey through time and space beginning with the leaf Archaeopteris -- an extinct genus from 380 million years past -- that features the WMAP image of the universe.
Sky Leaves is an artwork started in 2015 through the City of San Gabriel's public art program, and will be installed this summer on the mixed-Use building designed by LCRA Architecture and Planning.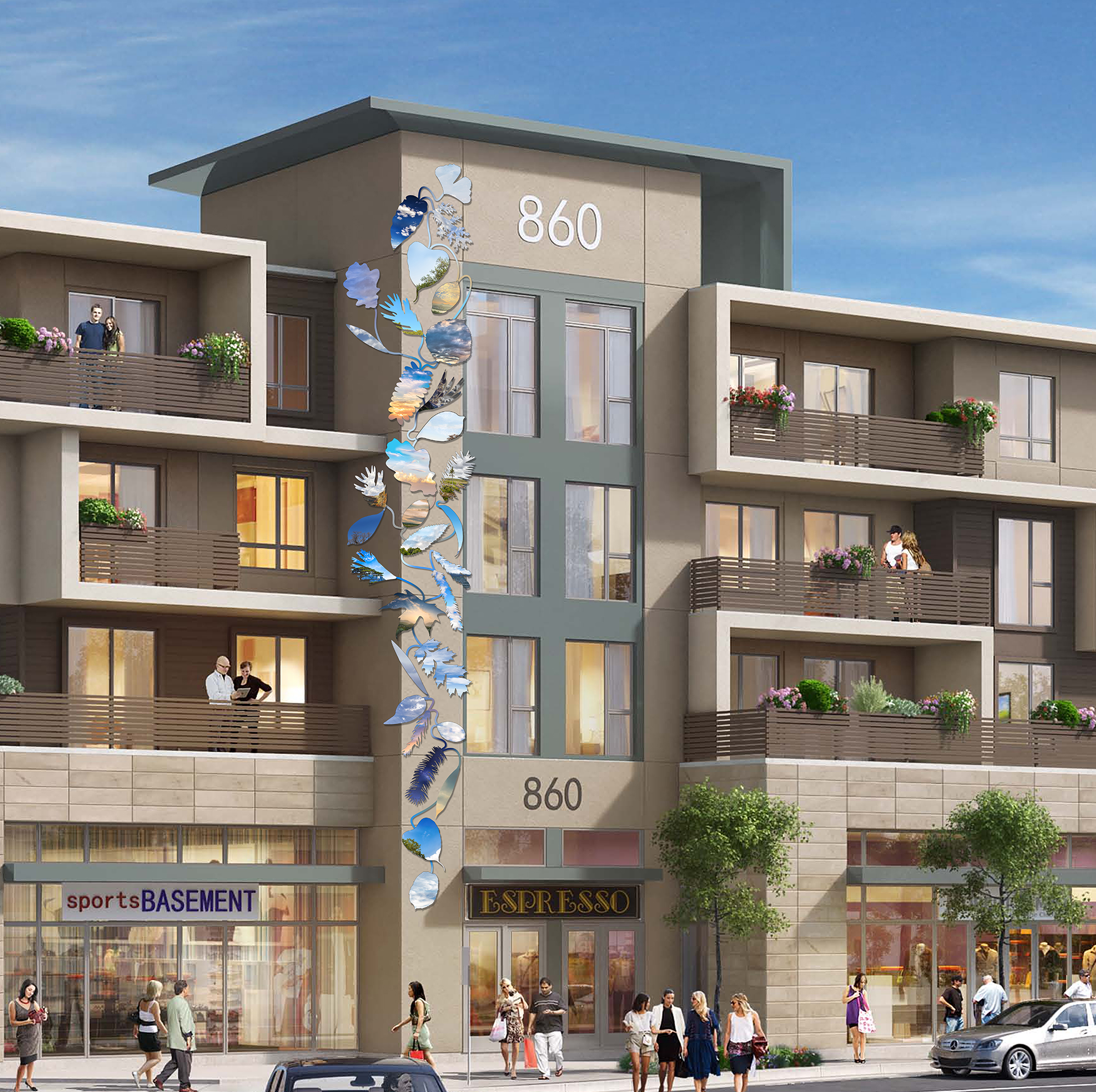 GROUP EXHIBITIONS IN 2020
Common Ground, Curated by Suvan Geer and Sandra Mueller; Embed Gallery, Chatsworth, CA Link to info and free online events
Endangered: Exploring California's Changing Ecosystems, Curated by Danielle Susalla Deery, California Center for the Arts, Escondido
What is it about Trees, Curated by Susanna Meiers, El Camino College Art Gallery, Torrance, CA
Access, Curated by Ani Ohanessian, Ara Oshagan and Anahid Oshagan, ReflectSpace Gallery, Glendale CA (Catalogue)  Link to LA Weekly article about ReflectSpace
Carte Blanche, Curated by José Lozano, Avenue 50 Studio, Highland Park, CA
2019-20 Lands of Promise and Peril: Geographies of California, Curated by UC Berkeley students, University of California, Berkeley Art Museum & Pacific Film Archive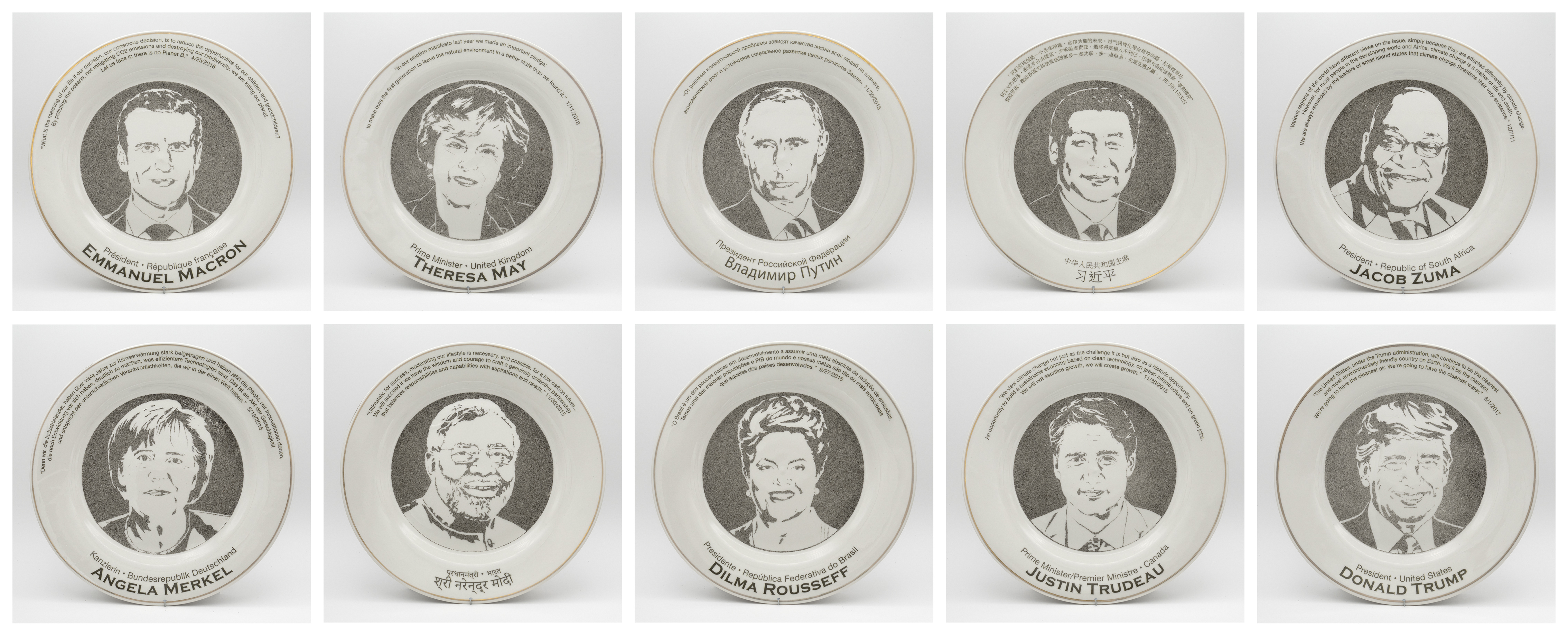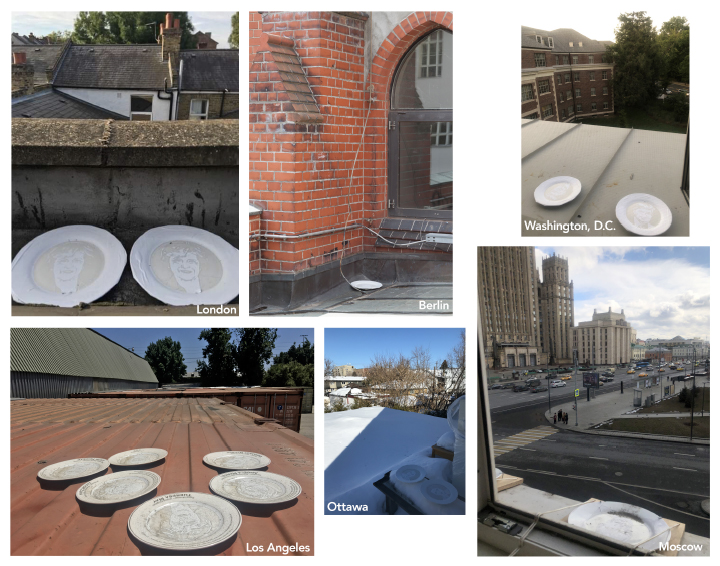 Nearly thirty years since the Presidential Commemorative Smog Plates, Abeles revisits her Smog Collectors to address the current state of our environmental crisis globally. The latest of the series depicts ten world leaders who presented speeches at world climate summits from 2011 to 2018. The quotes are written on the plates in the language originally presented. Stenciled plates collected smog in Moscow, Paris, Washington D.C., London, Ottawa, London, and Los Angeles. World Leaders in Smog was created in collaboration with the Garage Museum of Contemporary Art, Moscow, for their exhibition, "The Coming World: Ecology as the New Politics 2030–2100", curated by Snejana Krasteva and Ekaterina Lazareva.
GROUP EXHIBITIONS in 2019
The Coming World: Ecology as the New Politics 2030–2100, Curated by Snejana Krasteva and Ekaterina Lazareva, Garage Museum of Contemporary Art, Moscow, Russia
World Leaders in Smog will be on view at Expo Chicago.  This special exhibition and panel discussion is sponsored by the Natural Resources Defense Council and the Garage Museum of Contemporary Art, Moscow.
Made in California: Art and Photographic Portraits of Artists by Wayne Shimabukuro, Robert and Frances Fullerton Museum of Art, California State University San Bernardino (catalogue)
Documenting Change: Our Climate, Curated by Erin Espelie, University of Colorado Art Museum, Boulder
Altered States, Curated by Heather Marx, Bedford Gallery, Lesher Center for the Arts, Walnut Creek, CA
In the Sunshine of Neglect: Defining Photographs and Radical Experiments in Inland Southern California, 1945 to the Present, Curated by Douglas McCulloh, California Museum of Photography and Riverside Art Museum (catalog)
Call and Response, When We Say…You Say, Curated by Mario Ybarra Jr. and Karla Diaz of Slanguage, California State University Long Beach Art Museum
School for Endurance Work, Curated by Carole Frances Lung and Consulting Curator Carol Cheh, California State University Los Angeles Fine Art Gallery (catalog)
Disclosure: Confessions for Modern Times, Curated by Dani Dodge and Alanna Marcelletti, Durden and Rey, Los Angeles
Artist Couples, Curated by Trevor Norris, Long Beach City College Art Gallery
Kitsch-In-Sync: Art and Its Opposite, Curated by Bradford J Salamon Coastline Community College Art Gallery, Newport Beach (catalog)
Unfrozen, Curated by Randi Matushevitz, Substrate Gallery, Los Angeles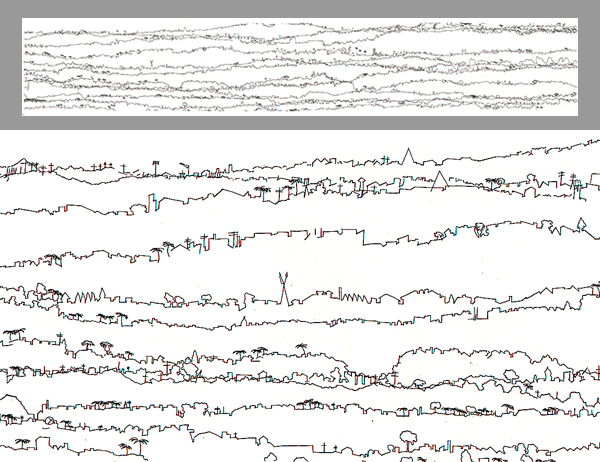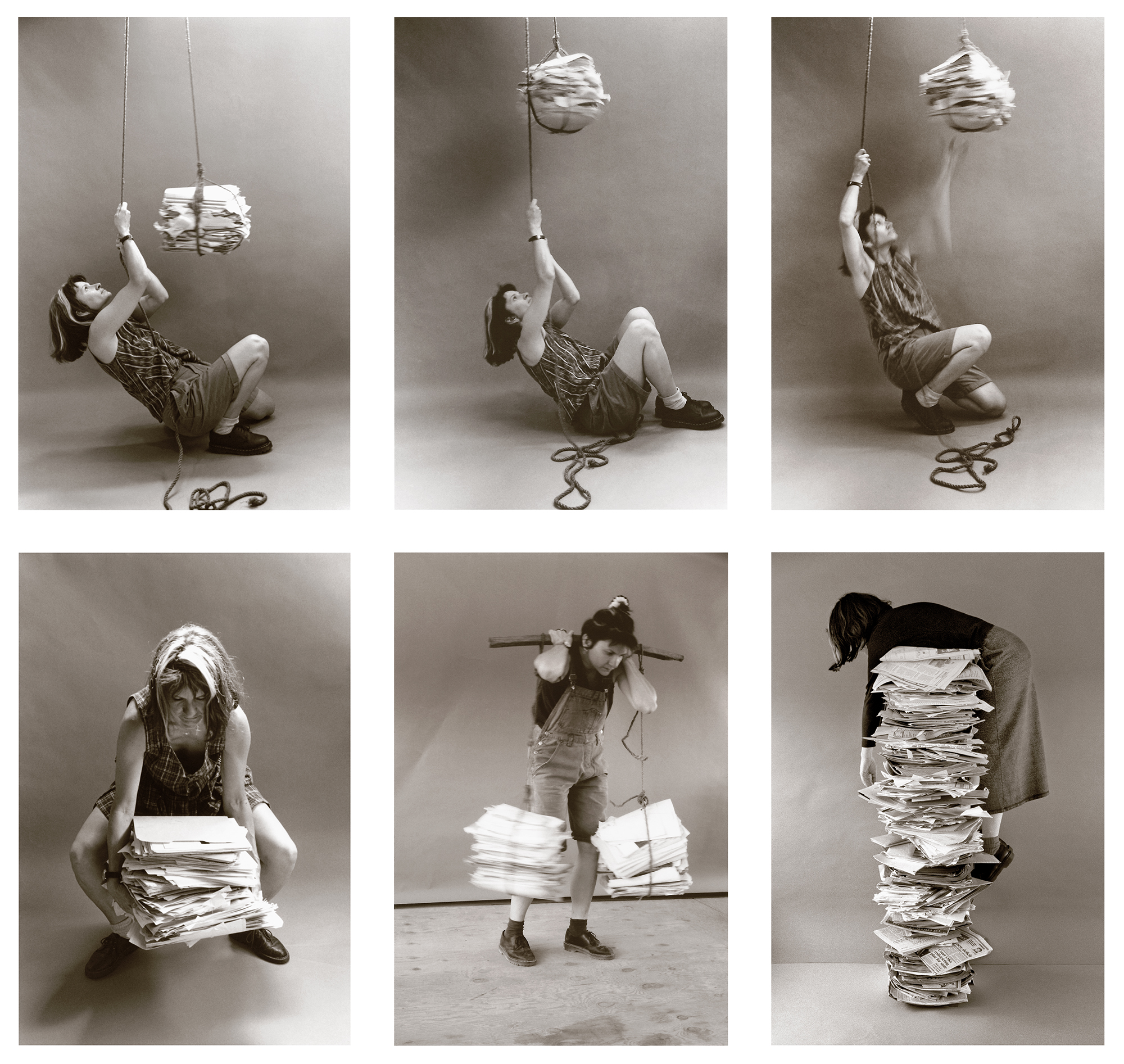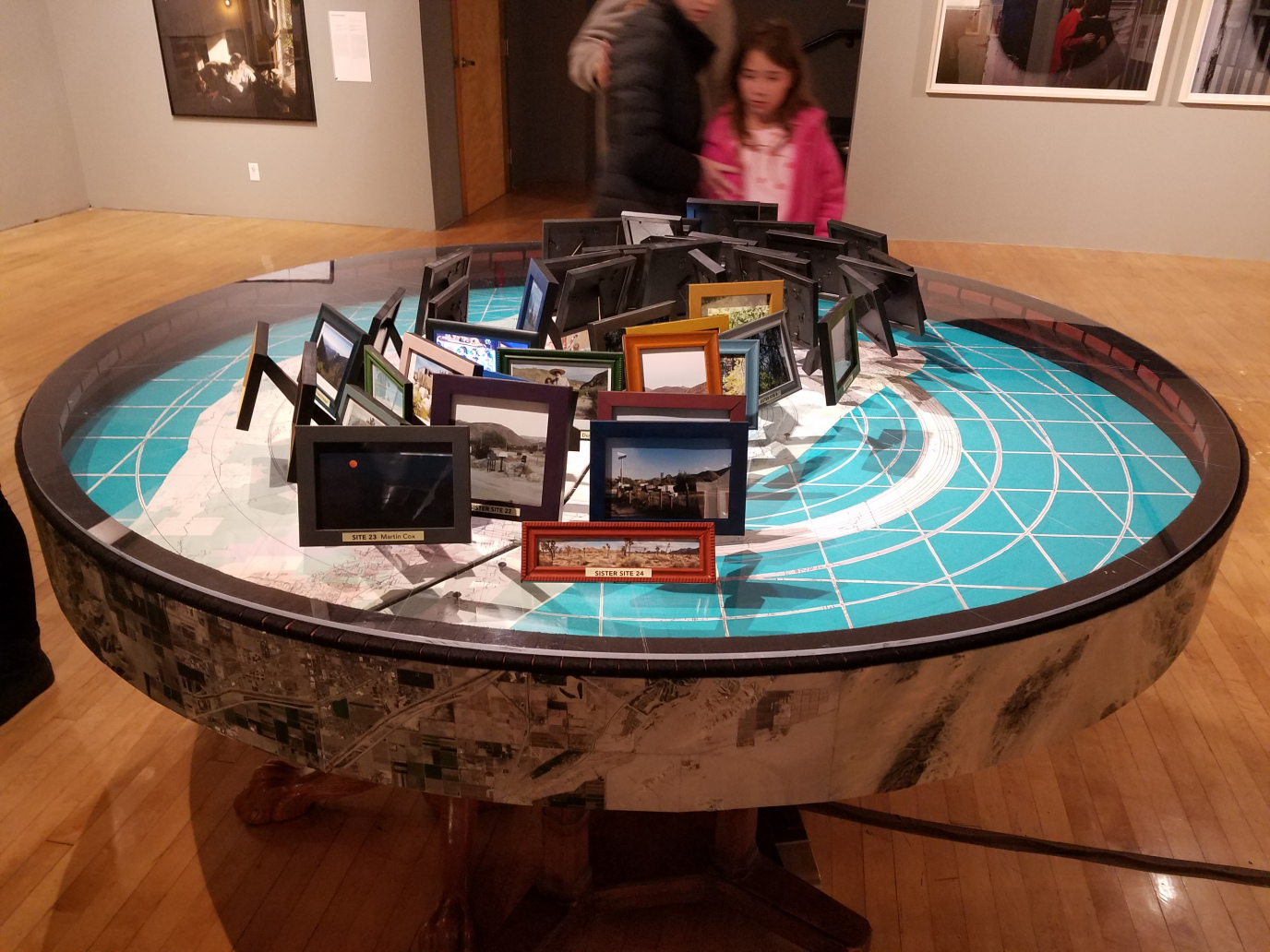 The Map is a Legend (Equidistant Inland Empire) 2018
7" diameter sculptural table showing the Inland Empire and the San Andreas Fault Line as a painted and incised digital map. The tabletop displays framed photos of the area taken by individuals. Abeles then located each site and its sister site that is equidistant from the centerpoint, a spot along the Fault Line.
I took off in my car with a full tank of gas to find specific sites in the Inland Empire. When I got within the proximity of the San Andreas Fault Line where it intersects Mill Creek Road, I expected to see a sign, maybe literal or geological. I asked a man in a truck parked
along the road, and he said, "People come all the time looking for the fault; it's somewhere between here and a road to the south." Like a mirage or the elusive, here, the tangible is just beyond the grasp.
Now Mystic Lake. A complete sentence or a full conjecture is created just by saying that name. Once again, when I started on my search for it in the Inland Empire, maps and GPS only tempted me toward it. Sitting on the side of Gilman Springs Road, looking toward where the lake should be, the endless trail of speeding cars and trucks pushed and pulled the soft field grass separating me from my sight line. Back at the studio, an aerial view revealed the ghost of Mystic Lake, the echoes of its original perimeter, and a small eye of water at the other end from its tail.
Both Mystic Lake and the Andreas Fault Line were among a dozen locations where regional scholars, writers and artists consider the center of the Inland Empire. Other center points, for instance, have philosophical or spiritual cores: UC Riverside and the Riverside Public Library, The Arrowhead in the San Bernardino Mountains, or Poetry Night at Back to the Grind. The center points vary by as much as 30 miles in all directions, and by defining these with concentric circles, the boundary of the Inland Empire is implied, and looks like competing Venn diagrams.
When I was in search of the San Andreas, I showed a man my map of the Inland Empire, and his first comment was that Adelanto wasn't included. He said, "Adelanto is where you go to die." When I asked if that was a saying (like the Japanese version, "See Nikko and die"), he said that "Apple Valley is where everyone is all happy, and then Victorville is where the mall is, and Adelanto, well, everything is gray."
Again back at the studio, Adelanto became an important location, and my personal goal was to make sure it held its place in the map I was creating. Checking online, the Google side bar for the town shows a gray house swallowed by desolation and punctuated by a blue and green trash cans. The city boundary looks like a hieroglyph. But digging further, there are many photos of this city's sign:
Welcome City of Adelanto
THE CITY WITH UNLIMITED POSSIBILTIES
I have no room in my heart for cynicism though surrounded by it in my profession and politics. Adelanto's city sign represents the hope and dignity that we hold to appreciate life. My journeys as a visitor to these sites and sister sites, unfold intangible places that hold memory and yes, possibilities. Held in the framework of a table, photography, and sculptural vessels is the Inland Empire as I would seek it, like trying to grasp in my hand the spots floating from my eyes. The Map is a Legend (Equidistant Inland Empire) embraces a hypothetical journey.