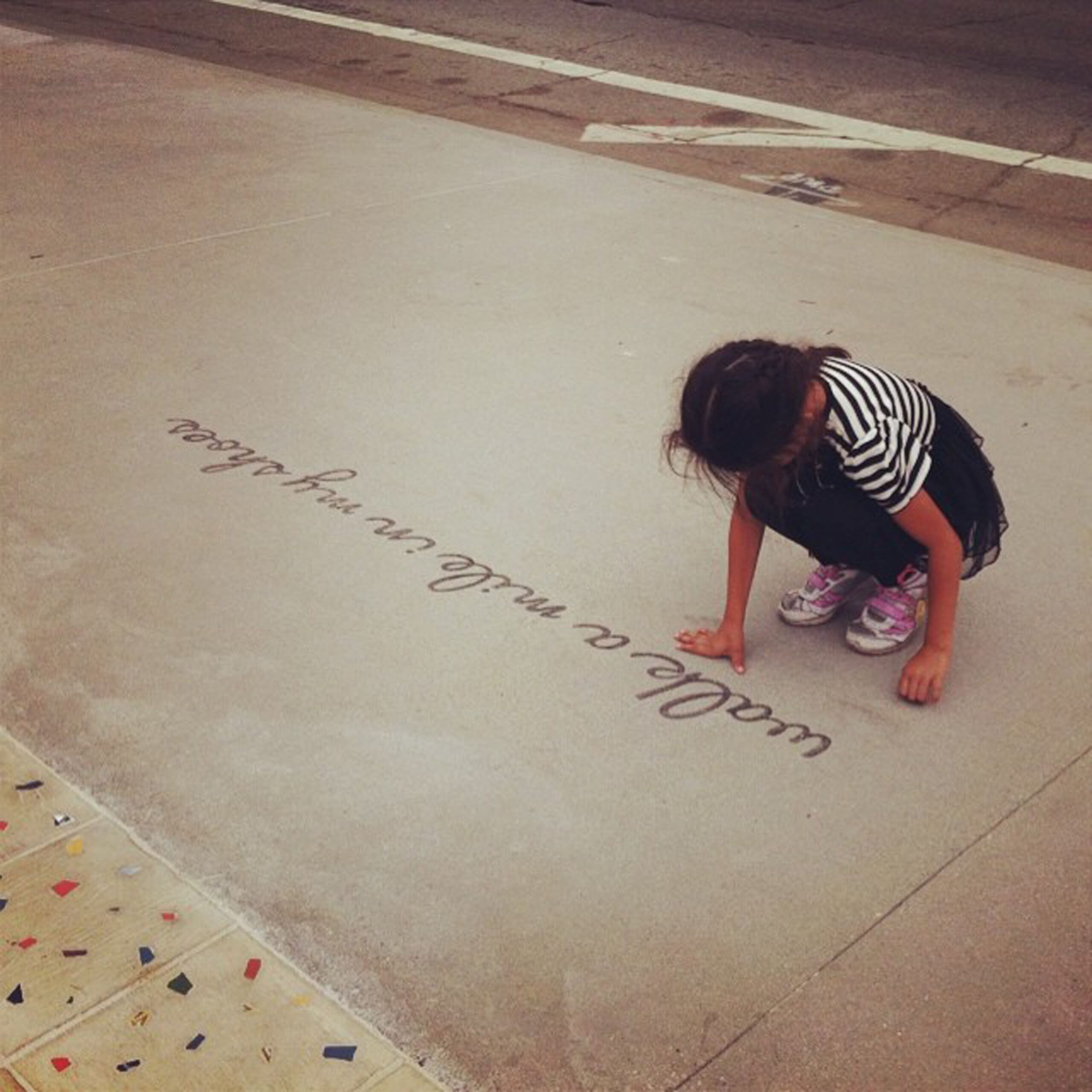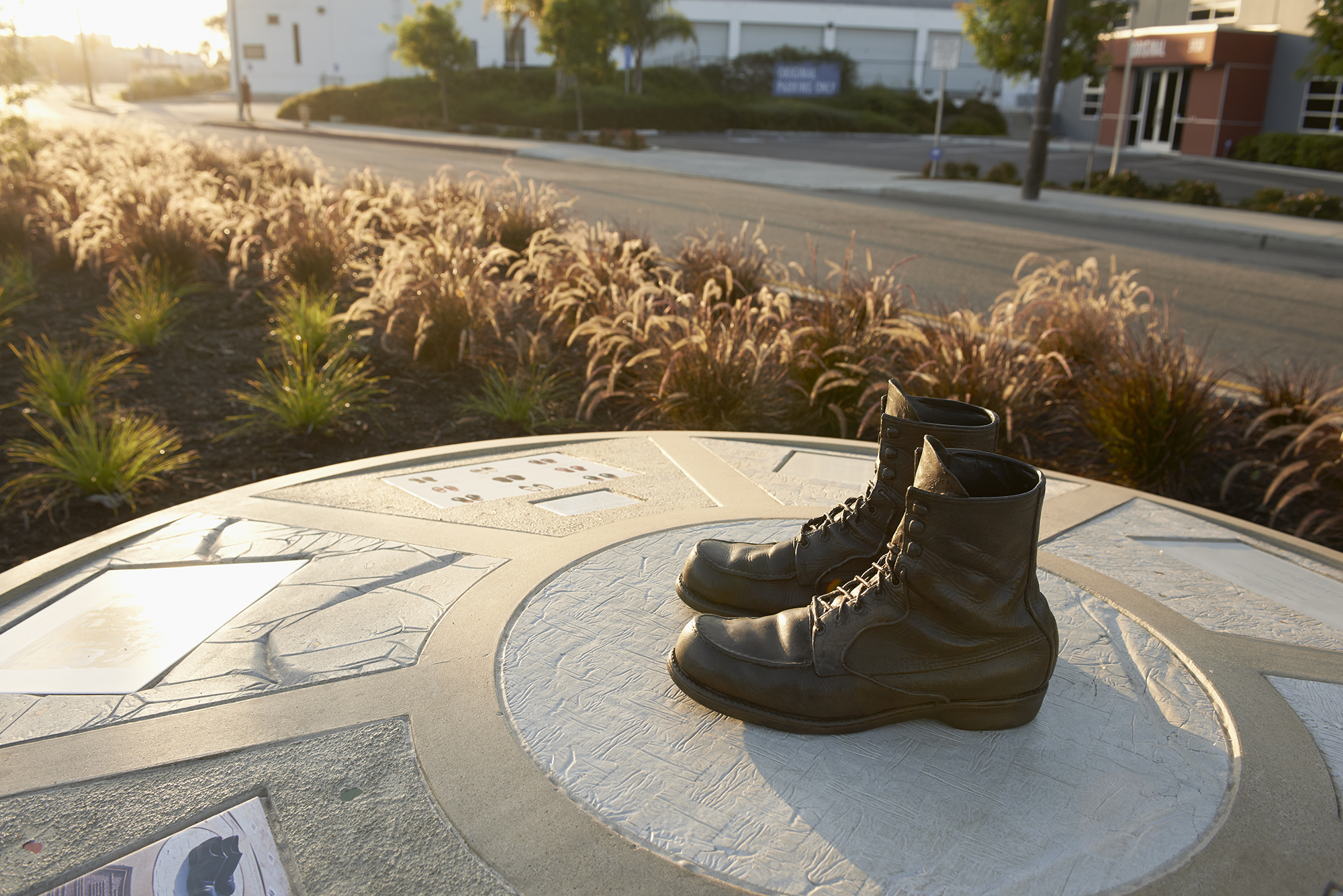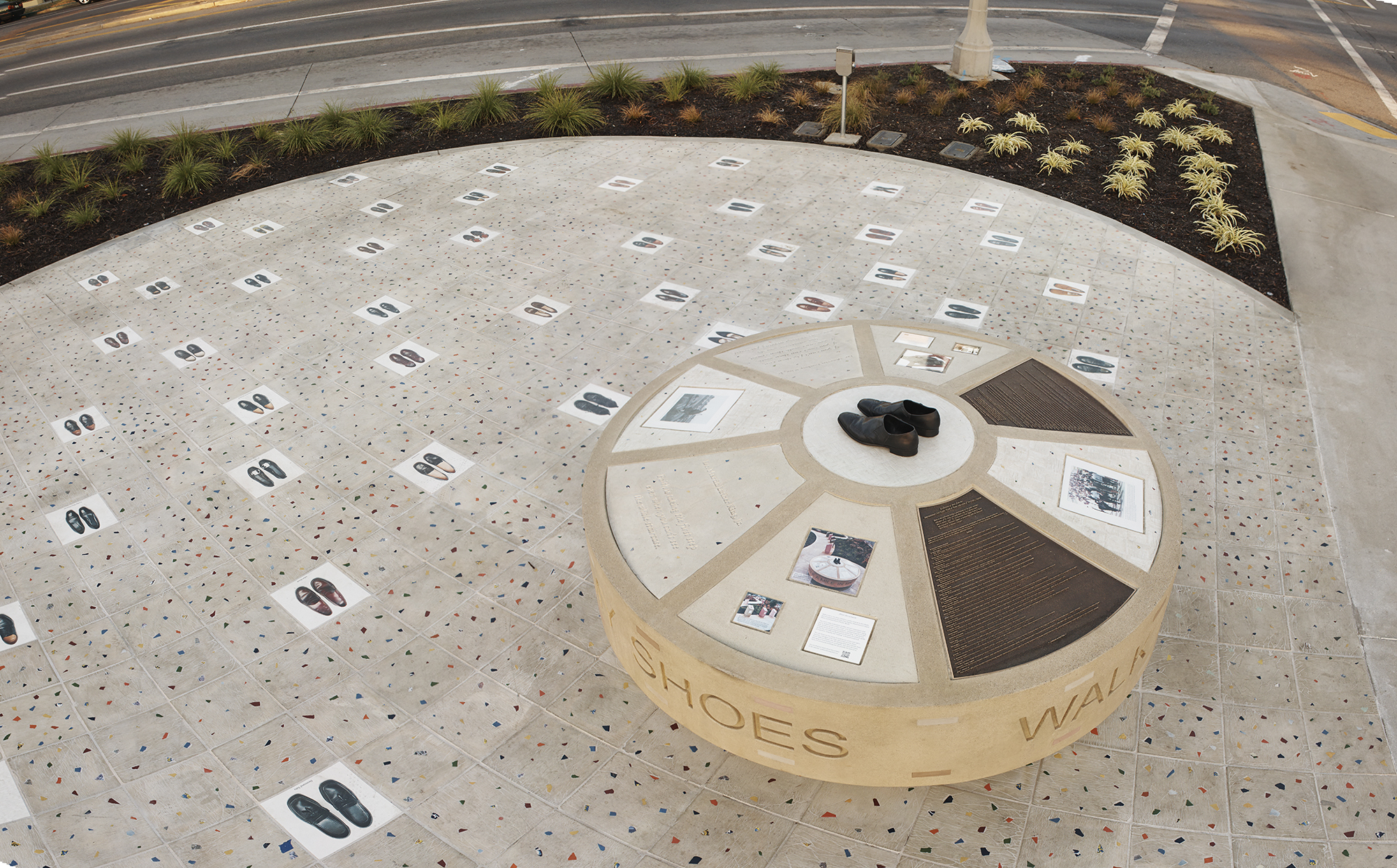 Walk a Mile in My Shoes (2014) is a public artwork by Kim Abeles, and funded by the City of Los Angeles Department of Cultural Affairs and Department of Public Works.
Statement by the artist
Walk a Mile in My Shoes is a variation of the saying, "You can't really understand another person's experience until you've walked a mile in their shoes." It is attributed to Native American tribes and from the 1895 poem by Mary T. Lathrap, Judge Softly, with its well-known closing line, "Take the time to walk a mile in his moccasins." This public artwork along the corridor of Obama Boulevard, book-ended by Jefferson Boulevard on the west and Martin Luther King Jr. Boulevard on the east, speaks of the metaphor of "walking" as movement, forward flow, and direction in social justice.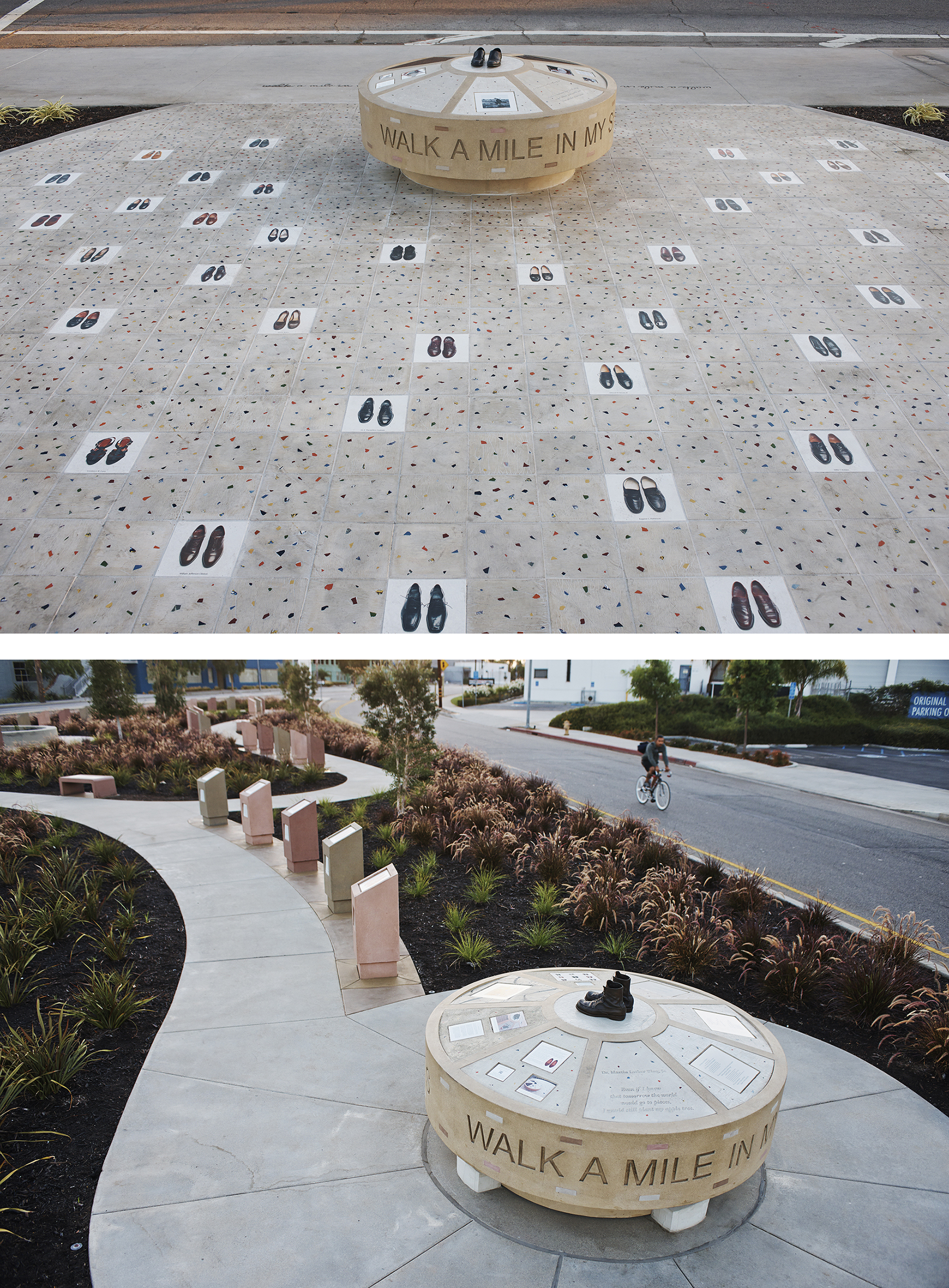 While researching a photograph of Martin Luther King as source material for this project, I came across a profound collection of shoes belonging to members of the Civil Rights marches that were collected by Xernona Clayton. Ms Clayton is Founder of the Trumpet Awards Foundation which created The International Civil Rights Walk of Fame in partnership with the National Park Service in Atlanta, featuring the footstep impressions of civil and human rights leaders' shoes.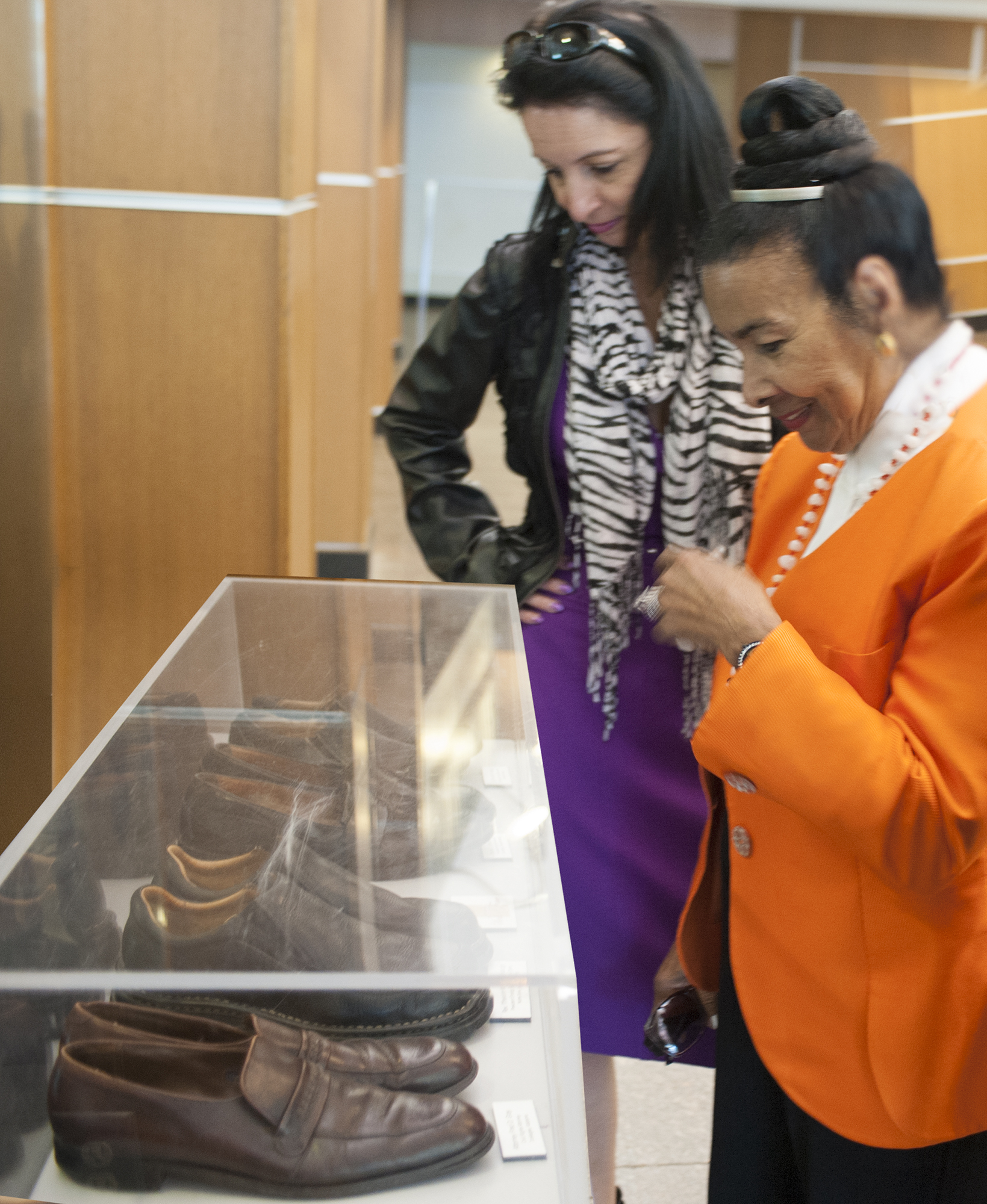 After looking further into the story behind the shoes, I flew to Atlanta with photographer Ken Marchionno where we documented the complete collection. The images of the shoes printed as photographic tiles represent sixty individuals including Congressman John Lewis, Dr. Maya Angelou, Marc H. Morial, and Lena Horne, to name a few.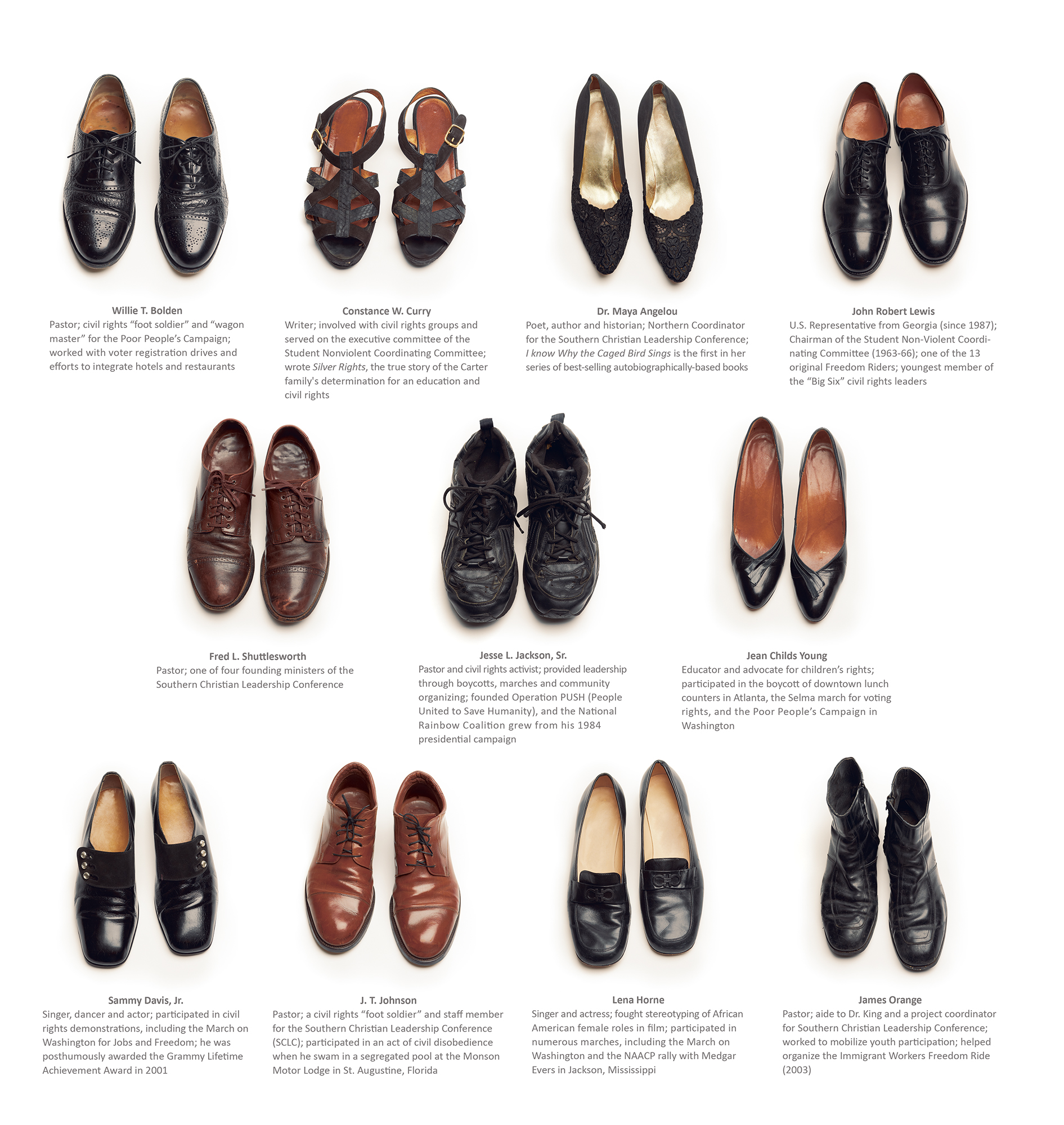 Site 1 at the intersection of Martin Luther King Jr Blvd + Obama Blvd
The artwork at Site 1 includes a 7-foot diameter platform with a bronze replica of Dr. King's shoes that are displayed at the King Center in Atlanta. The platform shows a photograph of that display, along with important documents from the 1960s. An AP photograph of the Selma march and another of Dr. King removing his shoes at the Gandhi shrine during his visit to India, offer personal and public moments. The platform also includes two bronze plaques with biographical narratives for each of the sixty individuals represented by their shoes.
The public artwork includes the photographic ceramic tiles, bronze elements, engraved and cast concrete, and hundreds of handmade pavers detailed with colorful tile shards. Each detail lends texture and context, and the pavers, for example, express the labor of our efforts, with multi-colored shards transformed into a visual metaphor of celebration and rebuilding.
Site 2 at the intersection of Obama Blvd + Jefferson Blvd
Site 2 continues with the theme of social justice, the empathic spirit, and "walking" as forward movement. Here, the photographic tiles include shoes belonging to local leaders and individuals dedicated to community service. At this location, the 7-foot diameter platform has a bronze replica of a second pair of shoes – work boots - that Dr. King wore during the marches.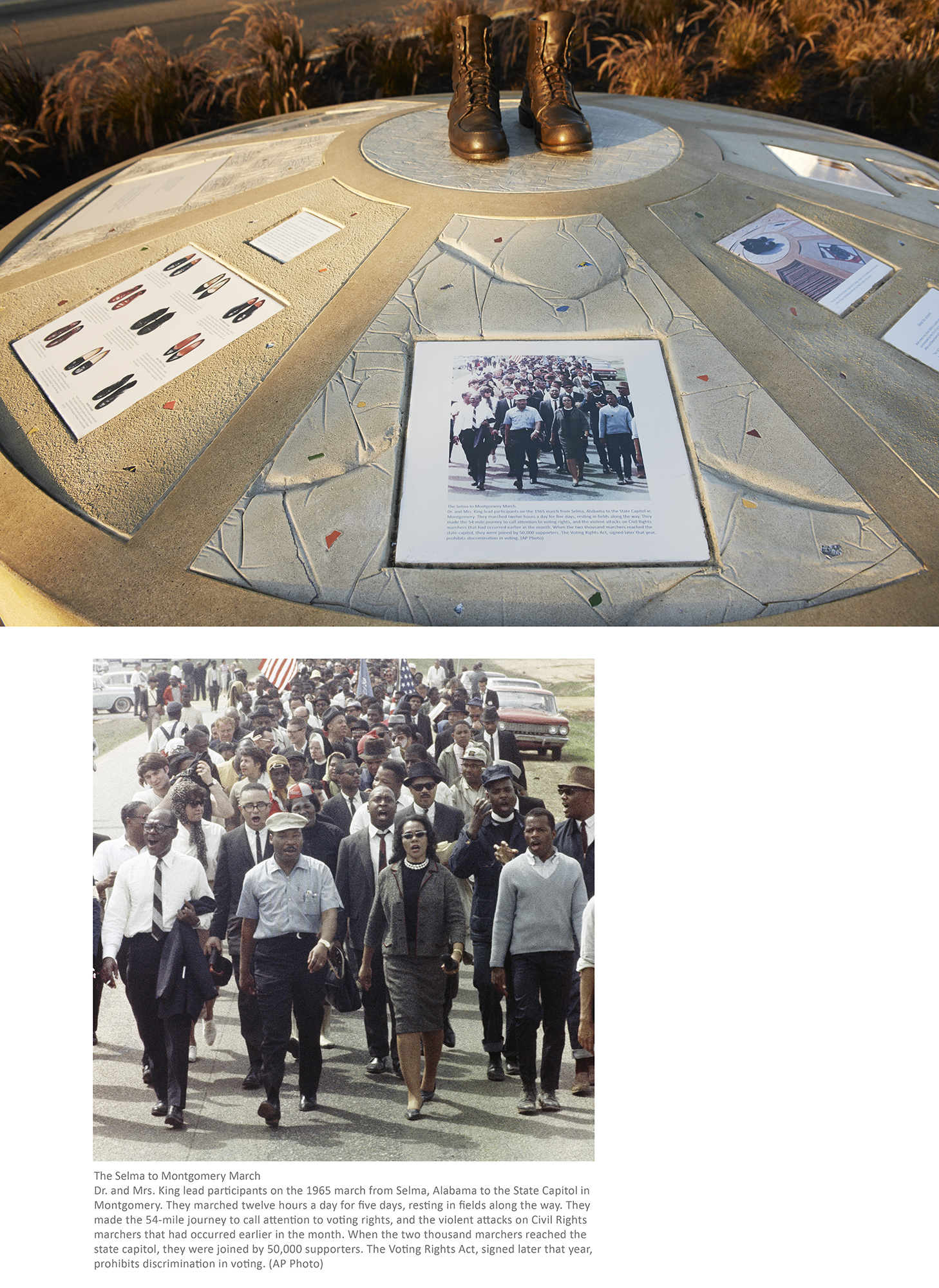 This site illuminates the many forms of community building that are possible for each of us. The individuals represented include well-known leaders such as César Chavez, Dolores Huerta, Dosan Ahn Chang Ho, and Riffat Massood. The thirty-three leaders represented include individuals involved in tree-planting and community gardens, community-based art, and founders of non-profit organizations that involve all age groups. An unexpected highlight came when a visitor representing a philanthropic group visited the completed sites and decided to make generous donations to each of the non-profit organizations noted in the artwork.
This larger site also includes seating, and I commissioned local poet Beverly LaFontaine to write a six-part piece in response to the themes presented in Walk a Mile in My Shoes. The tiles embedded in each bench contain two sections of her six-part poem. The text is oriented so that people facing each other on the bench can read aloud to each other one section.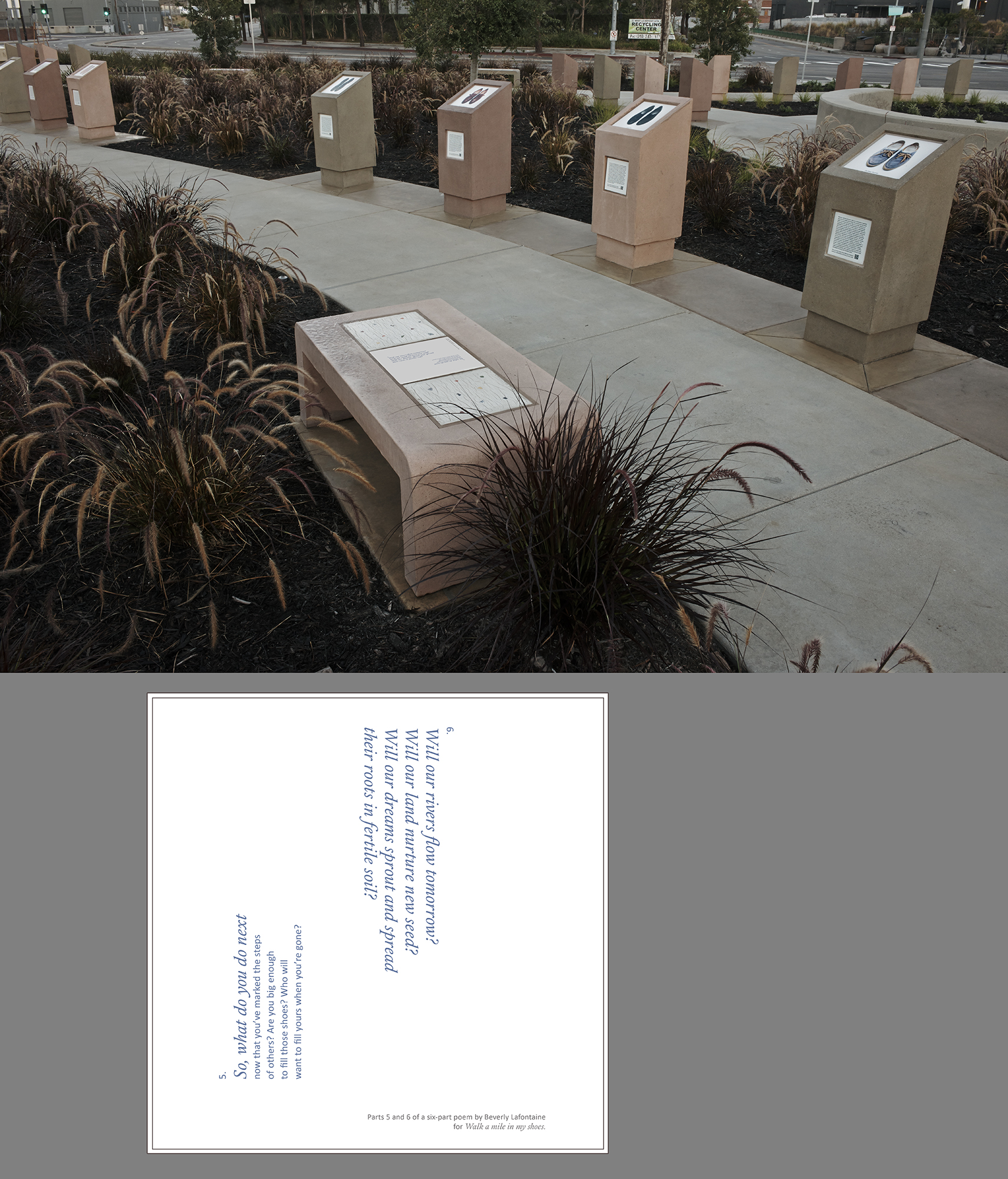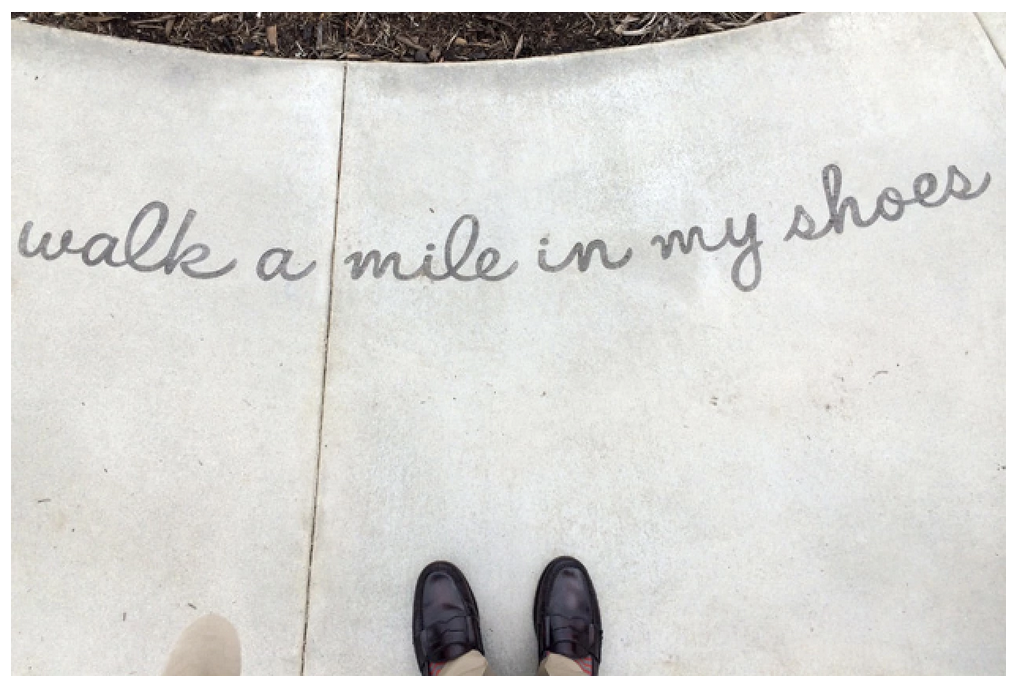 One of my goals was to inspire young people to get involved with stewardship early in their lives. The biographies at both locations for Walk a Mile in My Shoes focus on the person's achievements and in particular, activities when they were teenagers. Walk a Mile in My Shoes is part of a large discussion to know that positive change requires people working together. Each person has a role in creating a more just and healthy society.