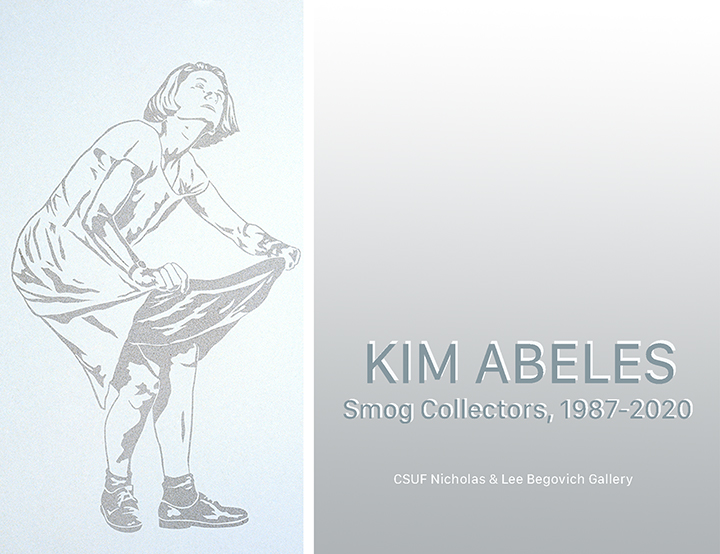 EXHIBITION DATES | September 18 - December 18, 2021
RECEPTION | Saturday, September 18, 2021
11 AM - 12 PM (Exclusive Preview for Art Alliance Members)
12 PM - 4 PM (Public Opening)
Artist Kim Abeles is known for her innovative method of producing images on various surfaces made solely by particulate matter from air pollution. The Begovich Gallery's presentation of Kim Abeles: Smog Collectors, 1987-2020,  features over thirty years of her artistic investigation related to the environmental impact caused by airborne detritus. It examines a range of scientific data collected by the artist and its unexpected visual presentation that prompts the viewer to reconsider the air we breathe.
RELATED PROGRAMMING
KIM ABELES - ARTIST LECTURE
Wednesday, October 20, 2021, 1 PM – 3 PM
Location: Clayes Performing Arts Center
IN CONVERSATION: KIM ABELES + JOSÉ LOZANO
Saturday, November 6, 2021, 11 AM – 1 PM
Location: TBA
(Reservation details forthcoming - Check website or follow us on IG for updates)
www.fullerton.edu/arts/begovichgallery  |  @begovichgallery
EXHIBITION PUBLICATION
Available in October 2021 at Amazon.com + Bookshop.org
Contributors: Kim Abeles, Jennifer Frias, Director/Curator, Nicholas + Lee Begovich Gallery; William L. Fox, Peter E. Pool Director, Center for Art + Environment, Nevada Museum of Art; Karen Moss, Director of USC Roski, MA Curatorial Program, Professor of Teaching, Critical Studies; and Rachel Kaufman, MA candidate in Art History, CSU Fullerton.
ARTIST'S WEBSITE
Kim Abeles: Smog Collectors 1987-2020 is organized by CSUF Nicholas + Lee Begovich Gallery. Support for the exhibition and the gallery is made possible through the Art Alliance, Associated Students, Inc. Instructional Related Activities, the College of the Arts, the Department of Visual Arts, and Ernie and Donna Schroeder. Special thanks to the Estate of Patricia Bazelon, Paige and Jeffrey Anthony, Alice Fung and Michael Blatt, Madeleine Grynsztejn and Tom Shapiro, Robert Hirsch and Adele Henderson, Michael Levine, Catherine MacLean and David Yale, Steve and Doni Simons, Lauren Trent, and Susan Zeidler and Leo Frishberg.
IMAGE: Kim Abeles, The Smog Catcher (Thirty Days of Smog) II, 1992, Smog (particulate matter) on repurposed acrylic.15 x 13 inches. Collection of Michael A. Levine.