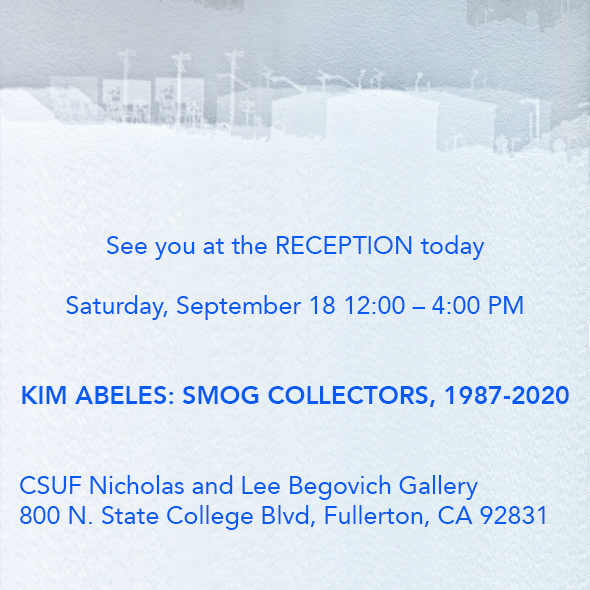 Artist Kim Abeles is known for her innovative method of producing images on various surfaces made solely by particulate matter from air pollution. The Begovich Gallery's presentation of Kim Abeles: Smog Collectors, 1987-2020, features over thirty years of her artistic investigation related to the environmental impact caused by airborne detritus. It examines a range of scientific data collected by the artist and its unexpected visual presentation that prompts the viewer to reconsider the air we breathe.
RELATED PROGRAMMING
KIM ABELES - ARTIST LECTURE
Wednesday, October 20, 2021, 1PM - 3PM
Presented in-person and LIVE streaming
Location: Recital Hall in Clayes Performing Arts Center
Webinar Link: https://fullerton.zoom.us/j/86842980193
Co-sponsored by CSUF Office of Sustainability
IN CONVERSATION: KIM ABELES + JOSÉ LOZANO
Saturday, November 6, 2021, 11AM - 1PM
Reservation details forthcoming - Check website for details: arts.fullerton.edu/begovichgallery | @begovichgallery
GALLERY HOURS Wednesday – Saturday 11 AM – 4 PM (closed on holidays)
LINK TO MAP and PARKING
TRAVEL BY MASS TRANSIT From Union Station in DTLA you can take the Amtrack Surfliner to Fullerton then hop on Bus 26 Yorba Linda - Lemon and Lakeview to the university
ABOUT THE ARTIST
Kim Abeles is an interdisciplinary artist known for her community-based projects that explore biography, geography and environment. She is the recipient of fellowships and awards from the Guggenheim Memorial Fellowship, the J. Paul Getty Trust Fund for the Visual Arts, the California Community Foundation, and the Pollack-Krasner Foundation, and her projects have been funded by the National Endowment for the Arts and the Los Angeles County Department of Arts and Culture. She has created projects in collaboration with the California Science Center, Camp Ground: Arts, Corrections and Fire Management in the Santa Monica Mountains, air pollution control agencies, health clinics and mental health departments, and natural history museums in California, Colorado and Florida. She is professor emerita at California State University, Northridge where she taught public art and public practice from 1998-2009. She received her MFA at University of California, Irvine. She lives and works in Los Angeles.
CSUF SUPPORT AND LENDERS TO THE EXHIBITION
Kim Abeles: Smog Collectors 1987-2020 is organized by CSUF Nicholas + Lee Begovich Gallery. Support for the exhibition and the gallery is made possible through the Art Alliance, Associated Students, Inc. Instructional Related Activities, CSUF Department of Capital Programs and Facilities Management - Office of Sustainability, the College of the Arts, the Department of Visual Arts, and Ernie and Donna Schroeder. Special thanks to Paige and Jeffrey Anthony, the Estate of Patricia Layman Bazelon, Alice Fung and Michael Blatt, Madeleine Grynsztejn and Tom Shapiro, Robert Hirsch and Adele Henderson, Michael Levine, Catherine MacLean and David Yale, the Orange County Museum of Art, Steve and Doni Silver Simons, Lauren Trent, and Susan Zeidler and Leo Frishberg.
EXHIBITION PUBLICATION
Available late-October at Amazon.com + Bookshop.org. Contributors: Kim Abeles; Jennifer Frias, Director/Curator, Nicholas + Lee Begovich Gallery; William L. Fox, Peter E. Pool Director, Center for Art + Environment, Nevada Museum of Art; Karen Moss, Director of USC Roski, MA Curatorial Program, Professor of Teaching, Critical Studies; and Rachel Kaufman, MA candidate in Art History, CSU Fullerton.
LINK to Christopher Knight in the Los Angeles Times: 11 essential L.A. art exhibitions this fall, from Obama portraits to smog art (August 27, 2021)