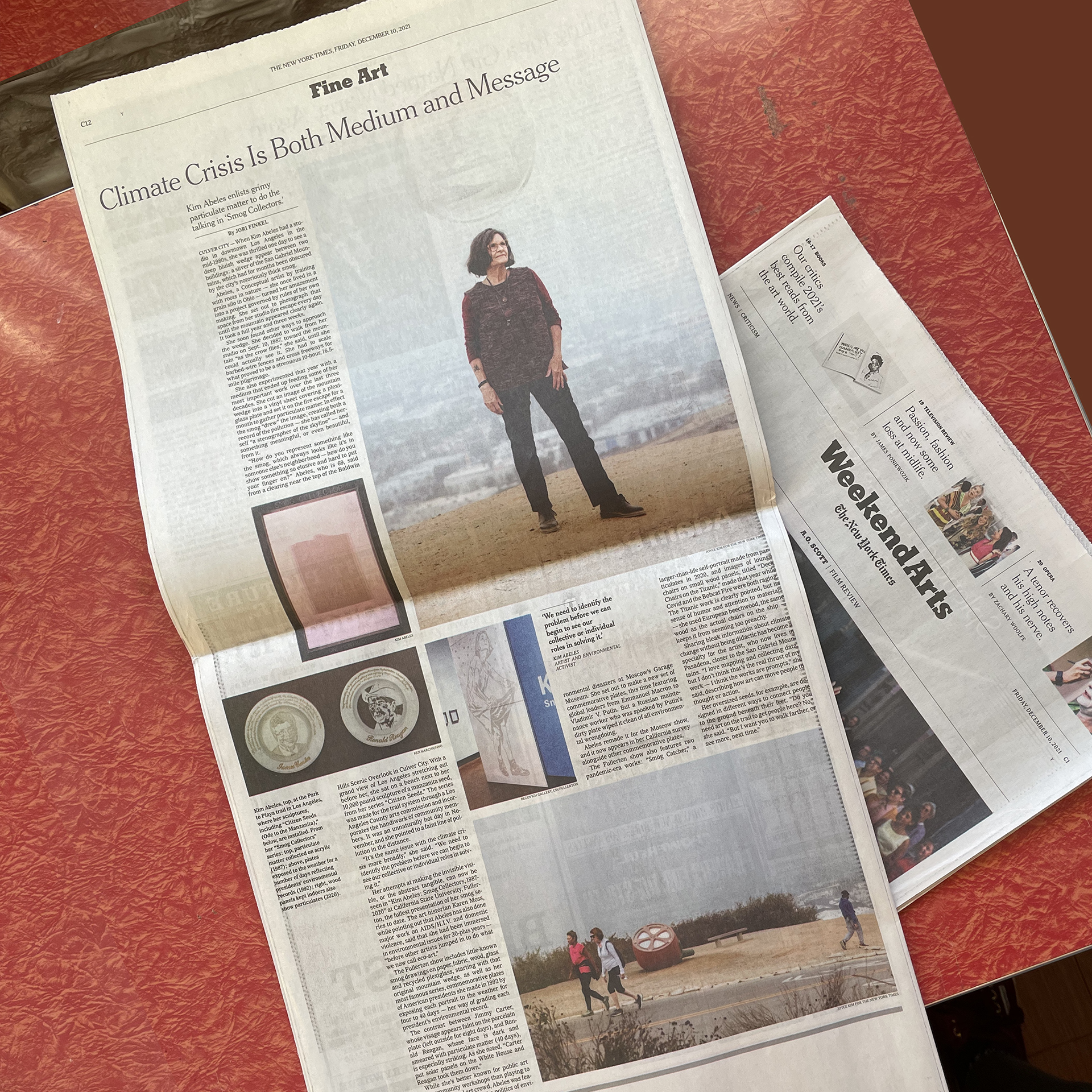 The article, "Climate Crisis Is Both Medium and Message" by Jori Finkel for the New York Times is in print (12/10/21) and here's the online link. Check out this insightful article by Jori Finkel (@jorifinkel) and the portrait by NYT photographer Joyce Kim (@jokimbo) who captured the spirit of it all.
A closing reception for the Smog Collector survey will take place on December 18, 2021 from 11am-4pm. Vegen donuts will be served in the morning and Zoë's gluten-free cookies in the afternoon.
ABOUT THE EXHIBITION "Kim Abeles: Smog Collectors, 1987-2021" curated by Jennifer Frias at the Begovich Gallery, Cal State Fullerton is a survey exhibit featuring over thirty years of Abeles' artistic investigation related to the environmental impact caused by airborne detritus. It examines a range of scientific data collected by the artist and its unexpected visual presentation prompts the viewer to reconsider the air we breathe.
EXHIBITION PUBLICATION
Available next week at Amazon.com and Bookshop.org
Contributors to the book: Kim Abeles, Jennifer Frias, Director/Curator, Nicholas + Lee Begovich Gallery; William L. Fox, Peter E. Pool Director, Center for Art + Environment, Nevada Museum of Art; Karen Moss, Director of USC Roski, MA Curatorial Program, Professor of Teaching, Critical Studies; and Rachel Kaufman, MA candidate in Art History, CSU Fullerton.
GALLERY HOURS Wednesday – Saturday 11 AM – 4 PM
Parking is $10 a day except on weekends when it is free.
University Address: 800 North State College Boulevard, Fullerton, CA 92831
MAP FOR PARKING AND GALLERY
#newyorktimes #smog #environmentalart #sustaincsuf #csufcota #lacountyparks #lacountyarts #parktoplayatrail