Here's a recap of highlights from this past few weeks. First, I had the opportunity to work with the Noah Purifoy Foundation (NPF) and students of Devika Banerjee at Horace Mann Middle School. Maria Myrick of NPF organized and led a fieldtrip to Noah Purifoy's Outdoor Museum in Joshua Tree, CA. It's an inspiring art destination that he started in 1989 and well worth a visit to JT and the Joshua Tree National Park. NPF Board members Sue Welsh and Joe Lewis (shown in the photo that follows) joined the students for a memorable time at the museum, lunch, and the park. Also guiding the group were members of the NPF education committee: Julia Wasson, Grazina Snipas and Martin Hundley.
The week that followed included workshops at Horace Mann. We made handmade paper out of junk mail and then sculpted it into wearable medallions and cuffs. The first day was wildly windy while we worked at site of the school's baseball field. Large bins were filled with water, and paper pulp was scooped up in the mesh frames. Wind and water became characters in this lively scene. Students helped each other and learned the adventure of artmaking at its experimental best. And special thanks to Chris Ogata who donated not only pounds of beads, but pounds of extraordinary beads ! that the students used to embellish their wearable art.
Two presentations took place in conjunction with the exhibition, Kim Abeles: Smog Collectors, 1987-2020, curated by Jennifer Frias for the Begovich Gallery at California State University Fullerton.
Conversation: Kim Abeles and José Lozano was an informal talk between two artists. We covered many topics and the connections between them: art, activism, audience, politics, environment, narrative, and family. Here's a link to José Lozano's work at the Museo Eduardo Carillo.
Also at Fullerton, I gave a slide presentation for students, live and on zoom. Here's a link to the talk and you'll need to start at 22:07 to bypass technical difficulties.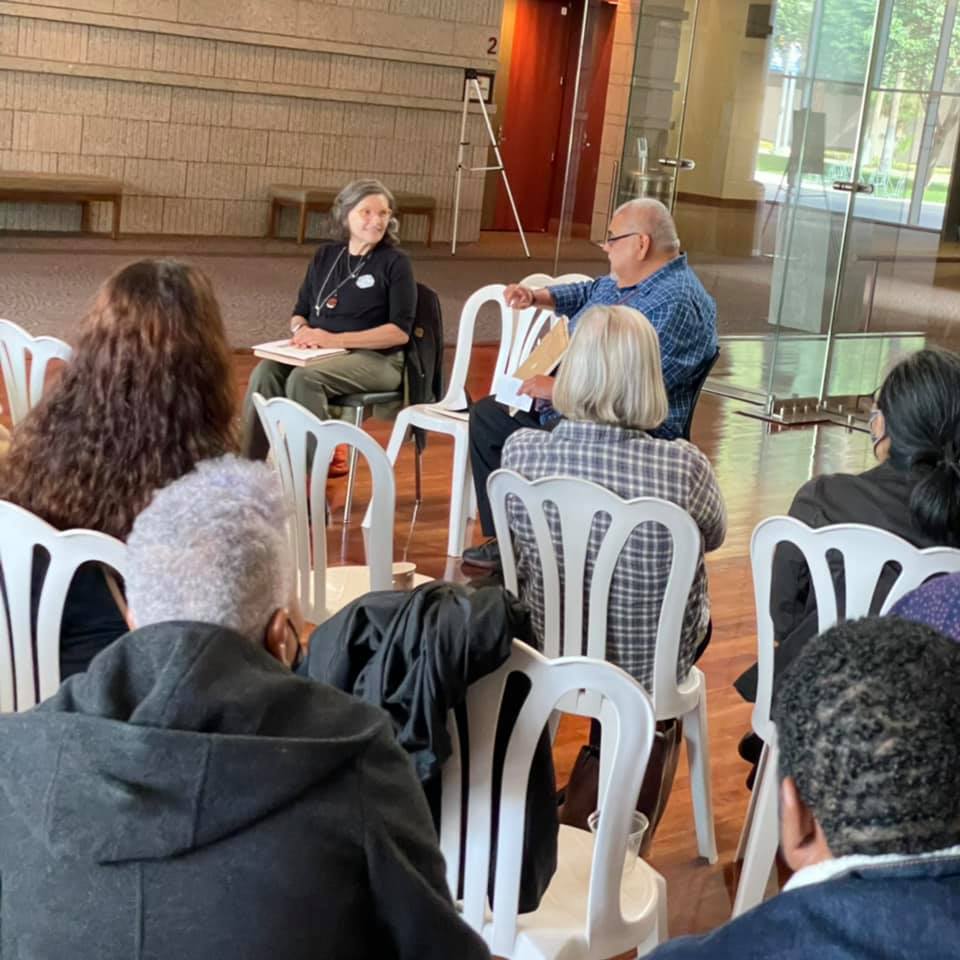 Citizen Seeds have been in the making along the east side of the Park to Playa Trail in Los Angeles. It's a series of permanent sculptures commissioned by LA County Arts and Culture. (Check out the Blog post, "Installing Citizen Seeds by the light of the moon".) In the next couple weeks, I'll post a full overview of the anecdotes, people, and experiences that are the essence this public artwork. For now, here's a photo of me with the Sugar Pine (the other half of the cone is across the path) preparing it for it's photo shoot with Ken Marchionno. And here's a second photo of the California Black Oak with photographer and Art Center College of Design Professor Marchionno and assistant and Art Center 2018 alum, Lester Guijarro.