Ken Marchionno's next conversation will be with Alex White Plume and Ron His Horse is Thunder. This next one is this Saturday, March 13, 2021 at 2pm. Free and open to the public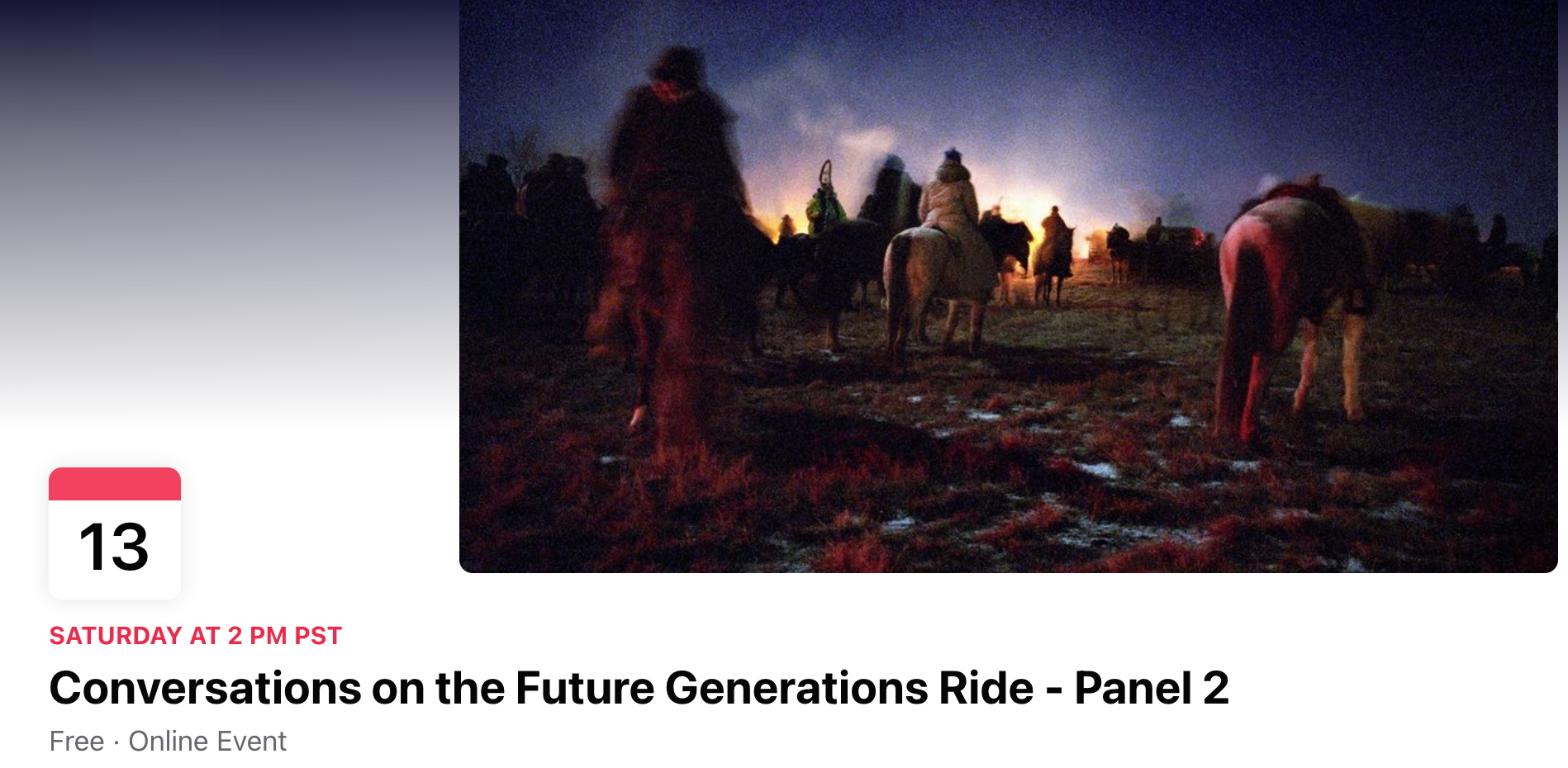 This is a series of discussions between some of the riders and originators of the Oomaka Tokatakiya, Future Generations Ride — a continuation of the original Si Tanka Wokiksuye, also known as the Big Foot Memorial Ride, a nearly 300-mile memorial horseback ride across the South Dakota winter.
Panel Two includes Alex White Plume and Ron His Horse is Thunder, both former elected leaders of their tribes, and both originators of the ride: Alex White Plume in 1986, from Bridger to Wounded Knee, and Ron His Horse is Thunder in 1987, starting from Sitting Bull Camp. This panel will focus on the origins of the ride, its original purpose, changes through the years, and its enduring effect on individuals and the larger community.
Alex White Plume is a former elected leader of the Oglala Sioux Tribe, serving as Vice President, then President from 2004 to 2006. He is a social justice activist for tribal sovereignty and sustainability.
In 1998 he planted his first acres of hemp, in an effort toward tribal self-reliance. He endured over a decade of federal harassment and a 2004 one-of-a-kind, personally targeted, federal ban on planting industrial hemp. In 2016, the ban was lifted and White Plume has recently partnered with a Colorado CBD company. His extracts can now be purchased in dozens of online and brick and mortar companies throughout the US.
In 1986 he, along with family and other members of the Oglala Sioux Tribe, started the Si Tanka Wokiksuye, also known as the Big Foot Memorial Ride, to start the healing process from the trauma of 1890 Wounded Knee Massacre, and to help bring the ceremonies back to the people. The Si Tanka Wokiksuye has transitioned into what is now known as the Oomaka Tokatakiya, Future Generations Ride.
Ron His Horse Is Thunder is a member of the Hunkpapa-Lakota Oyate from the Standing Rock Sioux Tribe, where he served as the Tribal Chairman from 2005-2009. Presently, he serves as the Director for the Tribes Department of Transportation.
He began his professional career in 1988 after graduating from the South Dakota School of Law with a Juris Doctorate degree. Serving in various capacities for Sitting Bull College (formerly Standing Rock College) until he was named as the college president in 1991. In 1993 he took two years off to head the American Indian College Fund, based out of New York, N.Y. Returning to the presidency of Sitting Bull College in 1996, His Horse Is Thunder served in this capacity until his election as Tribal Chairman in 2005.
In additional to his professional endeavors, His Horse Is Thunder has advocated for and participated in grass-roots activities which protect and revitalize Tribal history and culture. In 1988, and since, he has participated in a 300 mile, two week-long (December 15th-29th) horseback journey to honor his ancestors who died at Wounded Knee in 1890. More recently, he and his wife, Deborah, have become engaged as "water-protectors" in the protests against the Dakota Access Pipeline on the northern edge of the Standing Rock Sioux Indian Reservation.
This is the second of five online public programs. All events are free and open to the public.