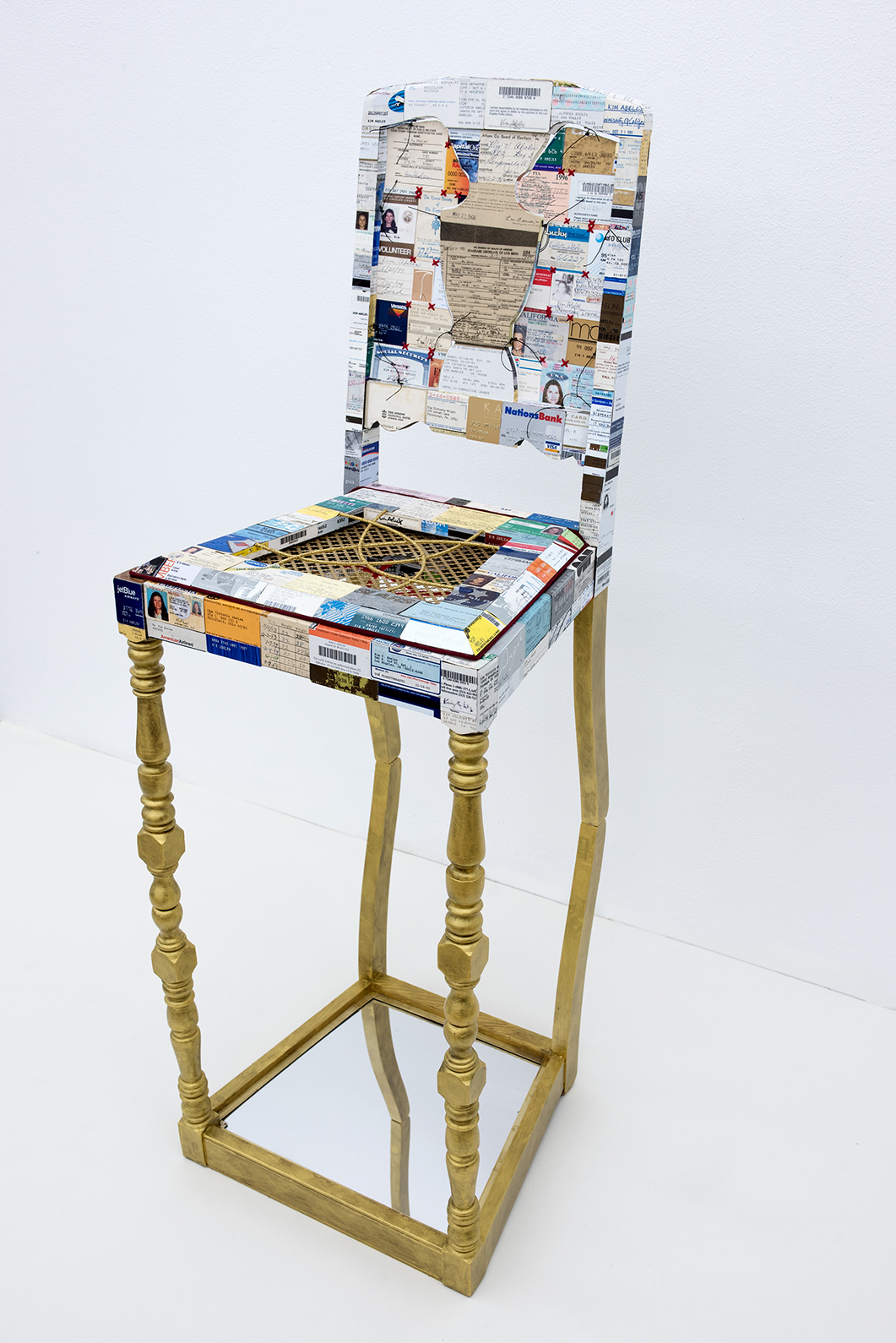 Biography
Kim Abeles is an artist whose community-based projects explore biography, geography and environment. She has created projects with the California Science Center, air pollution control agencies, health clinics and mental health departments, and natural history museums in California, Colorado and Florida. Abeles received the 2013 Guggenheim Memorial Fellowship, and she is a recipient of fellowships from J. Paul Getty Trust Fund for the Visual Arts, California Community Foundation and Pollack-Krasner Foundation. In 1987, she innovated a method to create images from the smog in the air, and Smog Collectors brought her work to national and international attention. She recently completed a series of sculptural suitcases for Camp Ground: Arts, Corrections and Fire Management in the Santa Monica Mountains that embeds artists in the Los Angeles County Fire Department to work in collaboration with the paid and inmate workforces. The project was funded by the National Endowment for the Arts (NEA), Los Angeles County Arts Commission, and administered by The Armory Center for the Arts. In 2018, she was artist-in-residence at the Institute of Forest Genetics; her project entitled, Resilience, was funded by the NEA and administered by the El Dorado Arts Council. Her work is in public collections including MOCA, LACMA, Berkeley Art Museum, California African American Museum, Brooklyn Museum, and National Geospatial Intelligence Agency. Abeles' journals, books, and process documents are archived at the Center for Art + Environment, Nevada Museum of Art.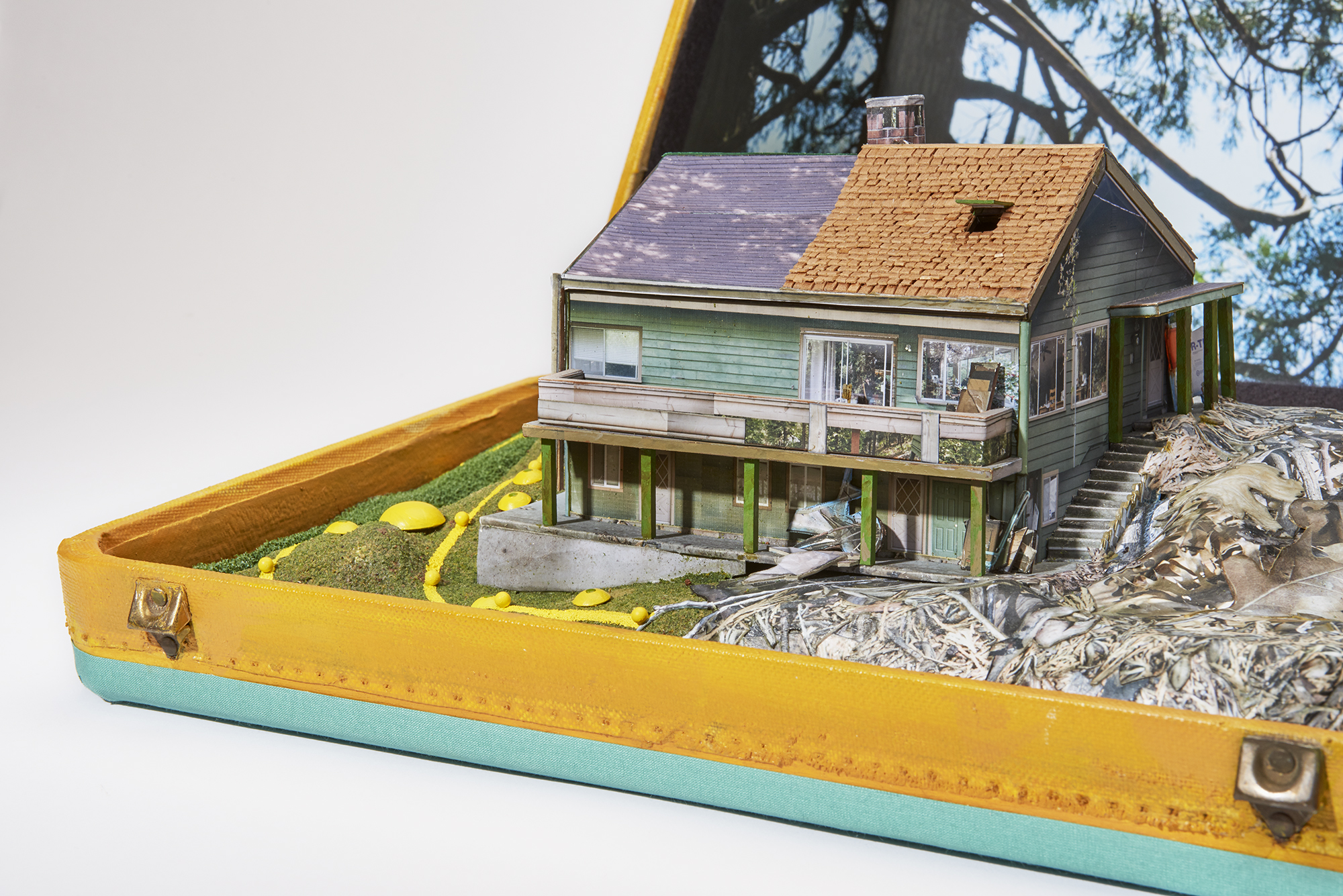 COMMUNITY-BASED EXHIBITIONS BY KIM ABELES in 2018
Valises for Camp Ground: Arts, Corrections, and Fire Management in the Santa Monica Mountains Community Room, Armory Center for the Arts, Pasadena, CA; Funded by the National Endowment for the Arts, Los Angeles County Arts Commission, and led by The Armory Center for the Arts   Link to description of project and images of all ten valises
Link to Liz Ohanesian's article in Los Angeles Magazine, "This Artist Enlisted Female Inmate Firefighters for a Show about Our Fragile Environment."
Resilience: A Living Room                                        Confidence Lab and a residency the Institute of Forest Genetics, El Dorado Arts Council, Placerville, CA; Funded by the National Endowment for the Arts.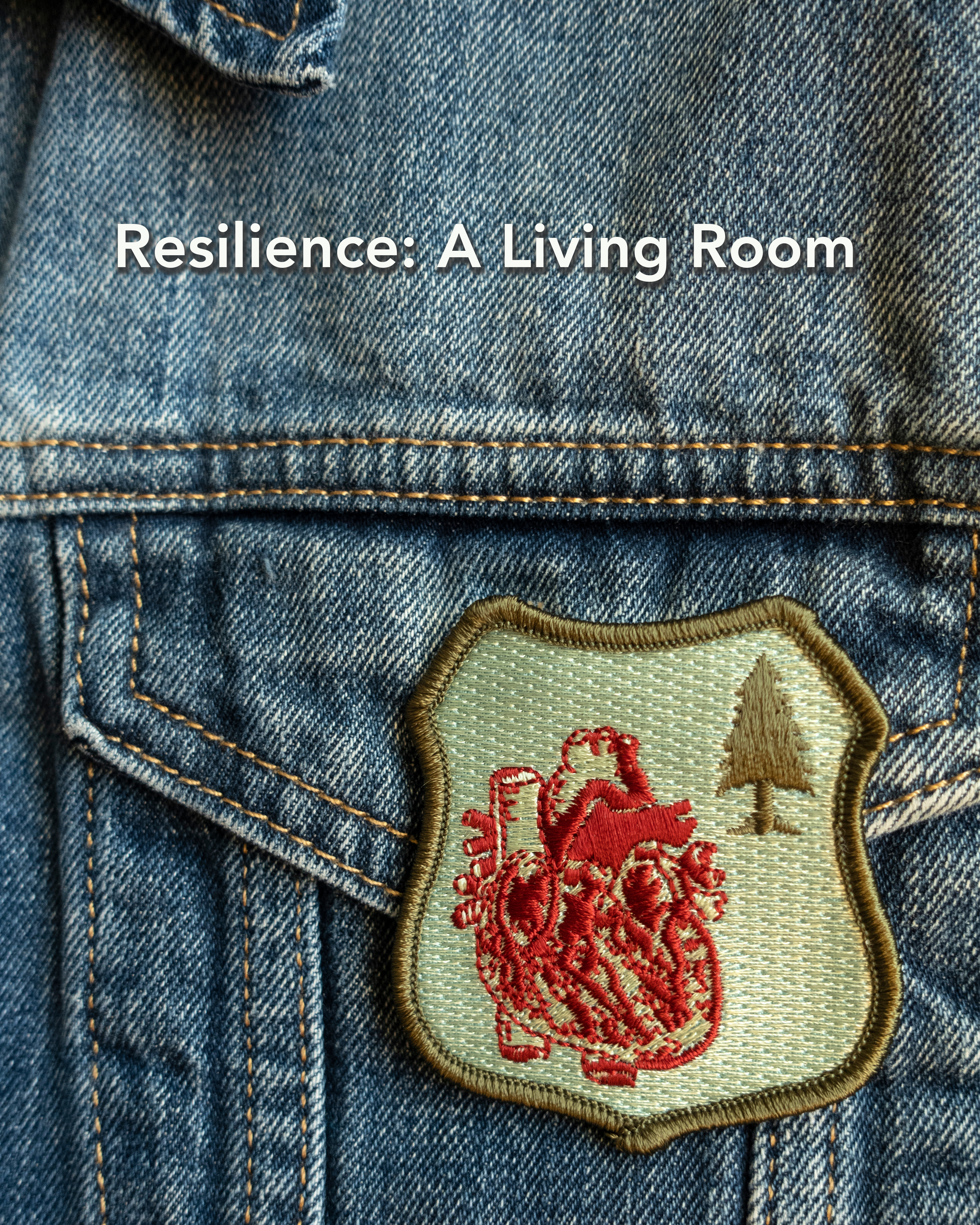 GROUP EXHIBITIONS in 2019
The Coming World: Ecology as the New Politics 2030–2100, Curated by Snejana Krasteva and Ekaterina Lazareva, Garage Museum of Contemporary Art, Moscow, Russia
Made in California: Art and Photographic Portraits of Artists by Wayne Shimabukuro, Robert and Frances Fullerton Museum of Art, California State University San Bernardino (catalogue)
Endangered: Exploring California's Changing Ecosystems, Curated by Danielle Susalla Deery, California Center for the Arts, Escondido
Documenting Change: Our Climate, Curated by Erin Espelie, University of Colorado Art Museum, Boulder
Altered States, Curated by Heather Marx, Bedford Gallery, Lesher Center for the Arts, Walnut Creek, CA
In the Sunshine of Neglect: Defining Photographs and Radical Experiments in Inland Southern California, 1945 to the Present, Curated by Douglas McCulloh, California Museum of Photography and Riverside Art Museum (catalogue)
Call and Response, When We Say…You Say, Curated by Mario Ybarra Jr. and Karla Diaz of Slanguage, California State University Long Beach Art Museum
School for Endurance Work, Curated by Carole Frances Lung and Consulting Curator Carol Cheh, California State University Los Angeles Fine Art Gallery (catalogue)
Disclosure: Confessions for Modern Times, Curated by Dani Dodge and Alanna Marcelletti, Durden and Rey, Los Angeles
Artist Couples, Curatedby Trevor Norris, Long Beach City College Art Gallery
Kitsch-In-Sync: Art and Its Opposite, Curated by Bradford J Salamon Coastline Community College Art Gallery, Newport Beach (catalogue)
Unfrozen, Curated by Randi Matushevitz, Substrate Gallery, Los Angeles
GROUP EXHIBITIONS in 2018
Slouching Toward Sunshine, Curated by Day Job Projects (Kimberly McKinnis, Hampton Boyer, and Doddie Braza); Produced by The Rutter Family Art Foundation, Commune, Norfolk, VA
Lost & Found: Safer Sex Activism, Co-curated by David Evans Frantz and Hannah Grossman, ONE Gallery, West Hollywood
Nature Worship, Curated by Andi Campognone, Mash Gallery, Los Angeles
Museum of Ennui, Curatedby Martin Cox, The Closet at Shoebox Projects/The Shed Collective, Los Angeles
Circle of Truth, Curatedby Laura Hipke and Shane Guffogg, New Museum Los Gatos; also travelling to Museum of Art and History, Lancaster, CA and Orange County Center for Contemporary Art, Santa Ana, CA (catalogue)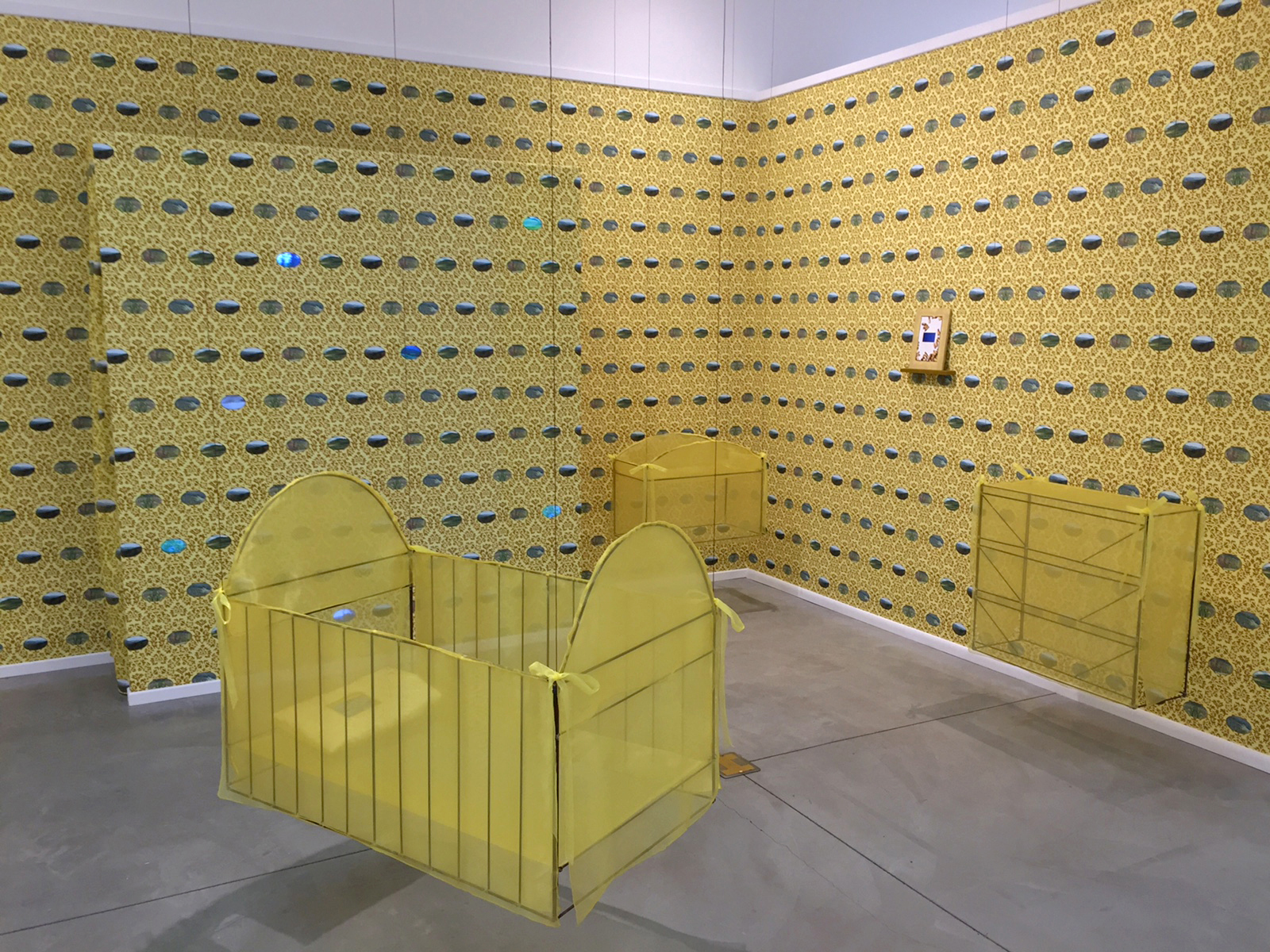 Sweet Dreams
Sweet Dreams  contains multiple videos embedded in wall created with hand-drawn and digital prints. Welded steel and chiffon baby furniture and ancillary artworks complete the installation.
Originally commissioned for the Sun Valley Center for the Arts, Sun Valley, Idaho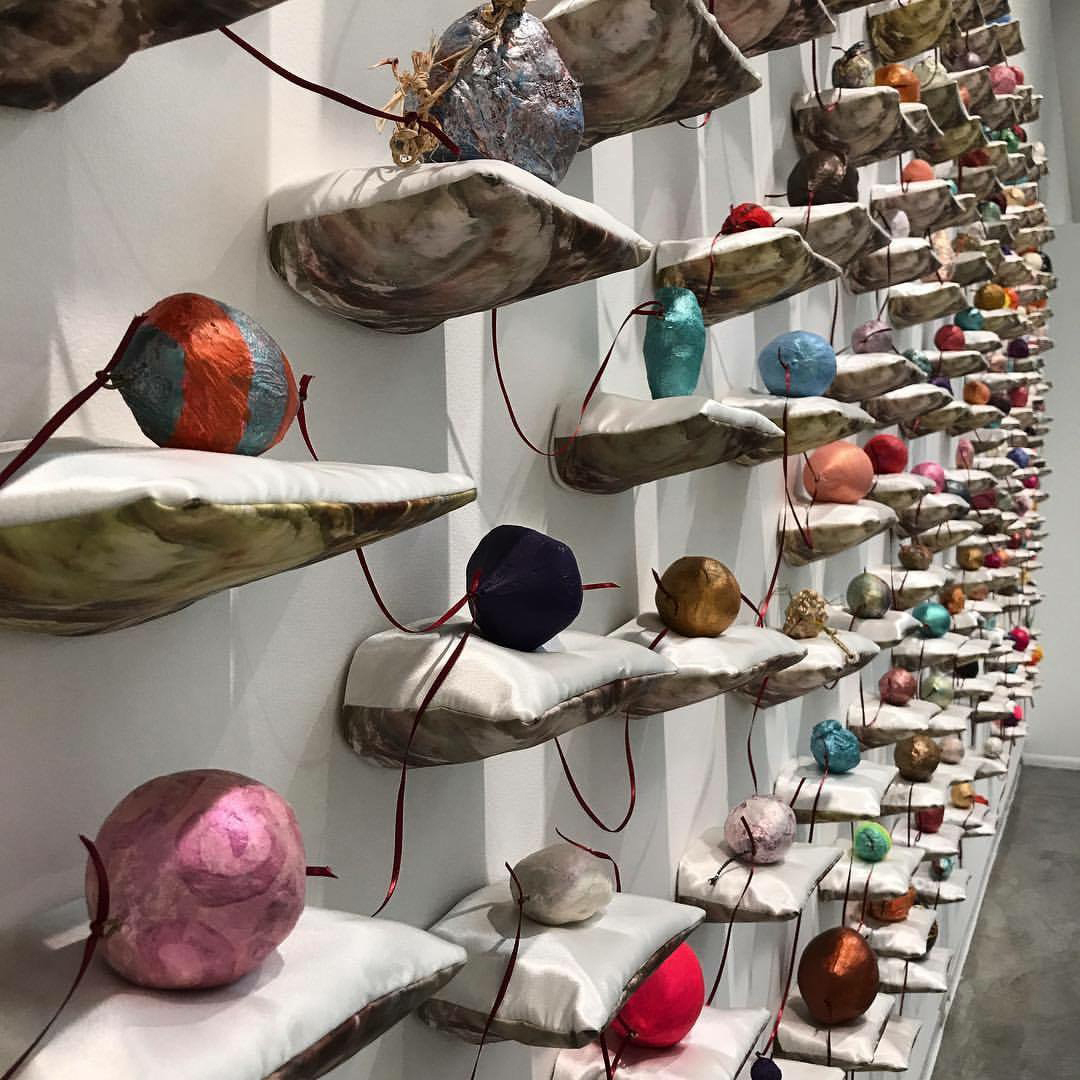 Pearls of Wisdom - End the Violence
Pearls of Wisdom - End the Violence (2011) is a mixed media and video sculpture and installation with sculptural "pearls" created by families moving beyond domestic violence. Abeles created the two-year project in collaboration with A Window Between Worlds and Funded by the James Irvine Foundation, City of Los Angeles Cultural Affairs Department, and additional funders.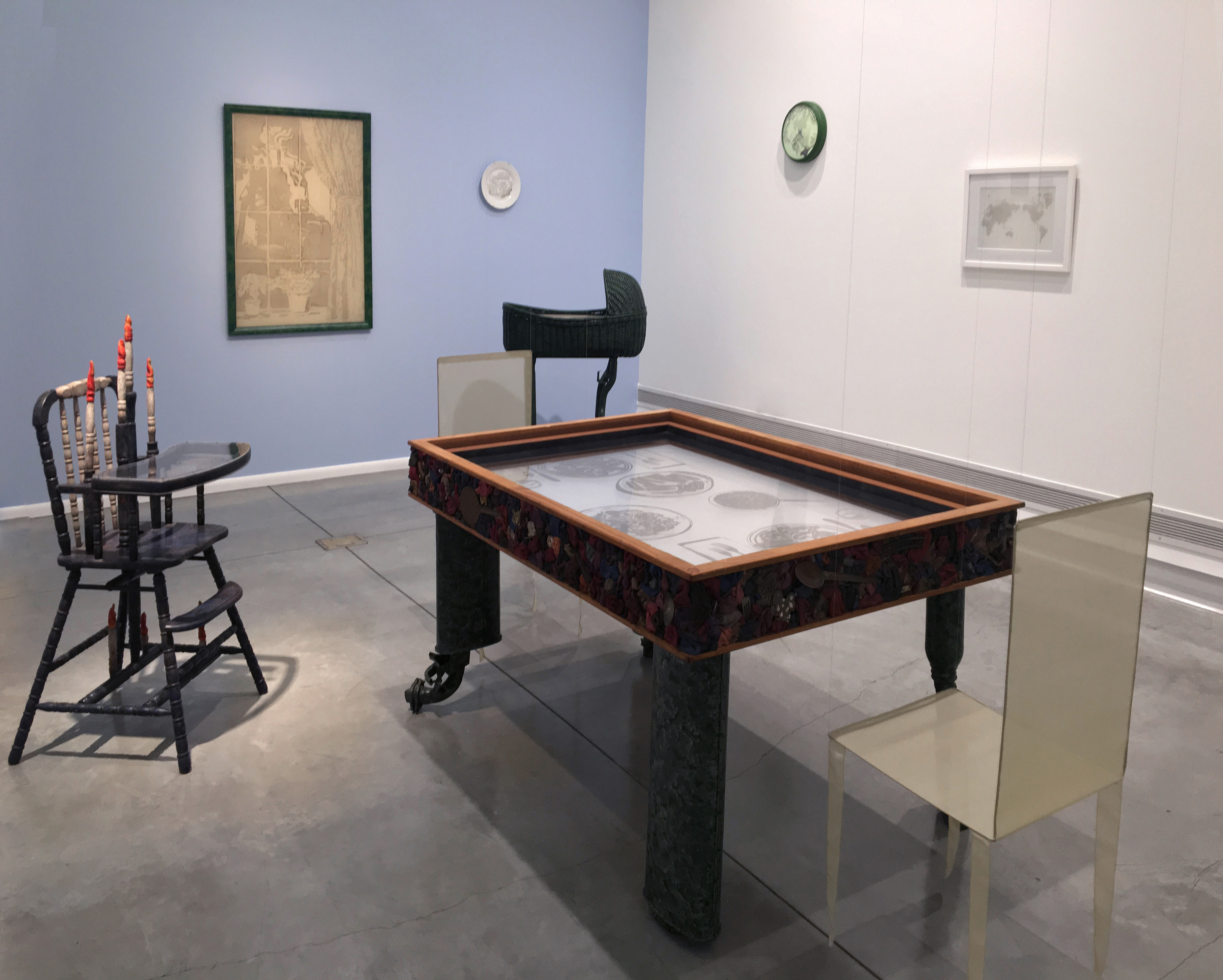 40 Days and 40 Nights (40 Days of Smog)
The dining room created with smog as its primary material was first exhibited in 1991. Particulate matter (smog) is created as images on glass, porcelain plates, and objects. Auto mufflers and detritus embedded in chiffon complete the sculptural table.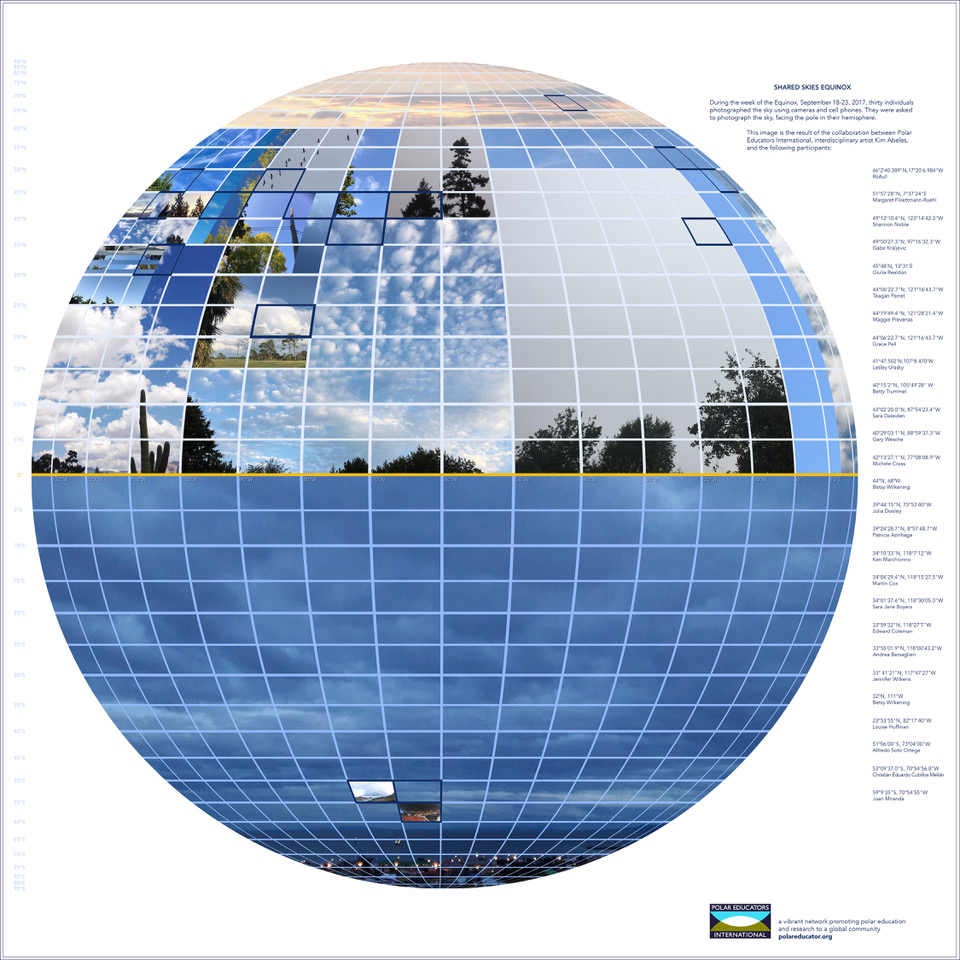 Abeles in collaboration with Polar Educators International
For this version of Shared Skies, international members photographed the sky during the week of the Equinox (September 22, 2017), facing toward the North Pole if they are north of the equator, and toward the South Pole if located to the south of the Equator. Abeles combined the images, the photographers' names and GPS coordinates into a print of the globe. As with all the Shared Skies artworks, each participant receives one of the prints in thanks for their involvement.