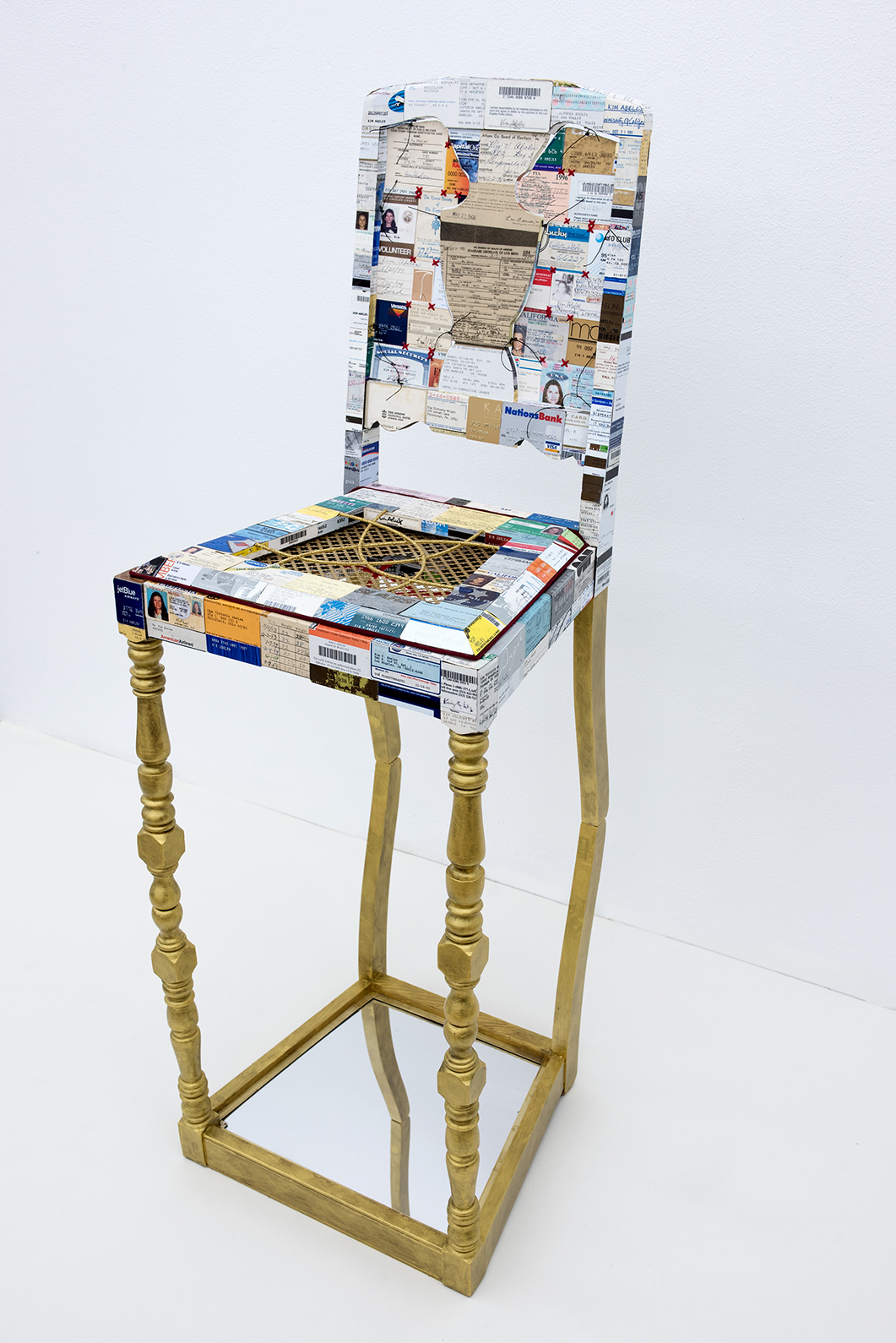 Biography
Kim Abeles is an artist whose community-based projects explore biography, geography and environment. She has created projects with the California Science Center, air pollution control agencies, health clinics and mental health departments, and natural history museums in California, Colorado and Florida. Abeles received the 2013 Guggenheim Memorial Fellowship, and is a recipient of fellowships from J. Paul Getty Trust Fund for the Visual Arts, California Community Foundation and Pollack-Krasner Foundation. In 1987, she innovated a method to create images from the smog in the air, and Smog Collectors brought her work to national and international attention. She is currently working on sculptural suitcases for Camp Ground: Arts, Corrections and Fire Management in the Santa Monica Mountains that embeds artists in the Los Angeles County Fire Department to work in collaboration with the paid and inmate workforces. Her work is in public collections including MOCA, LACMA, Berkeley Art Museum, California African American Museum, and National Geospatial Intelligence Agency. Abeles' journals, books, and process documents are archived at the Center for Art + Environment, Nevada Museum of Art.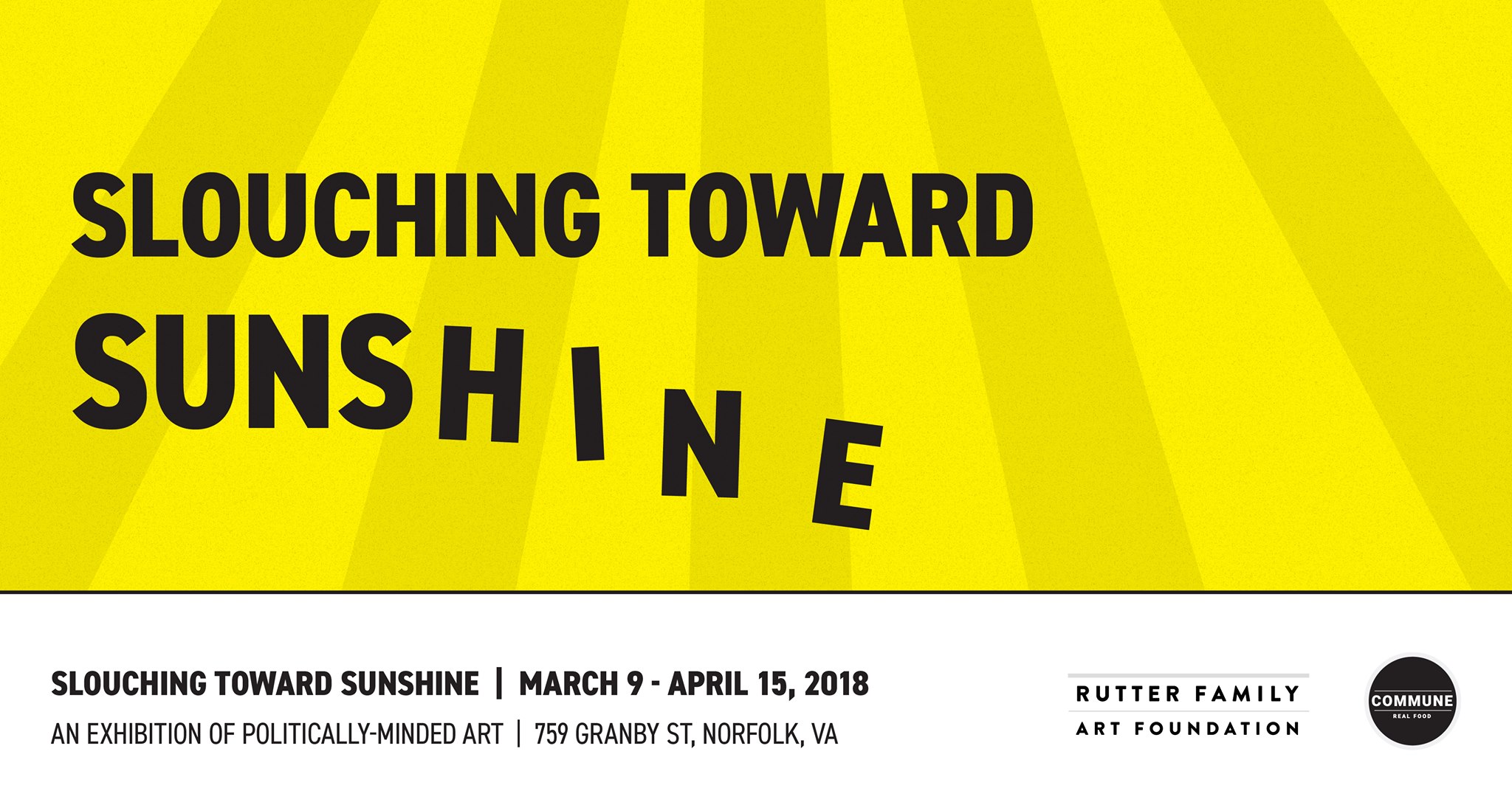 Opening reception Friday, March 9th, 6-9 p.m. 
Curated by Kimberly McKinnis, Hampton Boyer, and Doddie Braza
The spring exhibition at Commune, in the heart of the NEON arts district, will feature new works created in response to the social and economic climate of the past two years. Inspired William Butler Yeats's famous work, "The Second Coming" written just after World War I, the show explores our current state of political turmoil and alludes to the cyclical nature of history.
Produced by the Rutter Family Art Foundation, the exhibition includes painting, illustrations, video, and a "Third Thursday" event at The Chrysler Museum of Art Glass Studio. Slouching Toward Sunshine will run until Sunday, April 15th. Works featured will include video, performance, painting, drawing, and selection from the Protest Banner Lending Library in Chicago, contributed by its curator, Aram Ham Sifuentes. 
Additional programming includes: a protest banner making workshop, and panel discussion on "The emerging role of social media in response to an evolving sexual landscape", moderated by the host of WHRV's "Another View", Barbara Hamm Lee, on Sunday, March 25th; and a dinner at Commune, with the Pittsburg based group "Conflict Kitchen" on Saturday April 14th. 
For more information about the exhibition please contact Kimberly McKinnis at mckinnis.kim@gmail.com.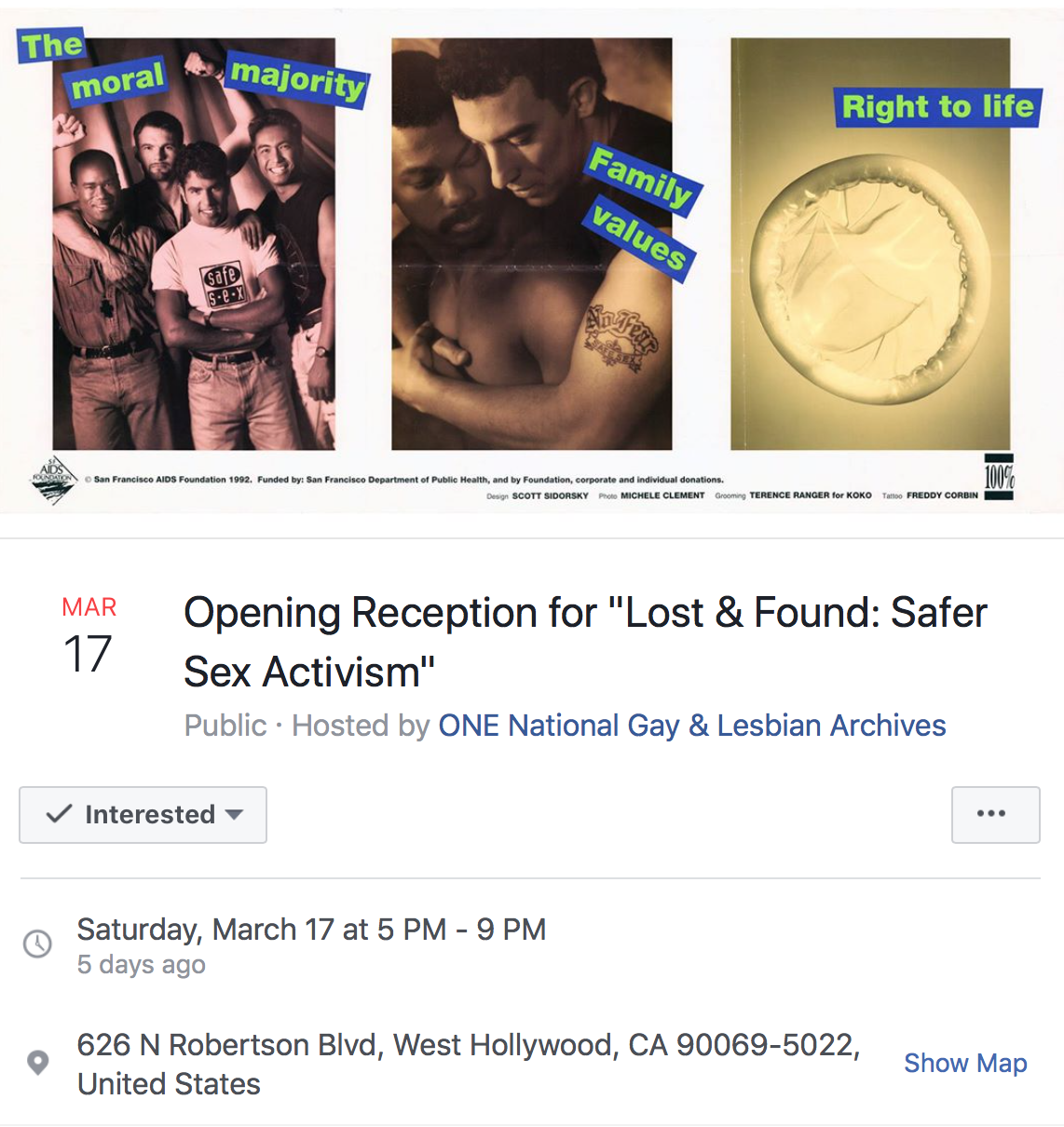 Lost & Found: Safer Sex Activism examines thirty years of inspiring and defiant safer sex and harm-reduction activism. The exhibition presents safer sex posters, comics, brochures, videos, PSAs, and safer sex and clean needle kits, among other archival items, all from the collections at ONE National Gay & Lesbian Archives at USC Libraries.
While at the height of the AIDS crisis in the 1980s and 1990s widespread public perception linked AIDS to gay men and intravenous drug users, Lost & Found reveals how activists sought to educate and empower varying publics about the pervasive epidemic. Rather than stigmatize sexuality, these educational projects often went hand-in-hand with sex positive practices. Utilizing novel and accessible forms, Lost & Found shows how the dissemination of information sought to cross cultural, economic, linguistic, and class divisions. While the majority of materials were produced in the 1980s and 1990s, the exhibition connects these histories to the ongoing AIDS crisis through contemporary artists and activist projects.
Lost & Found: Safer Sex Activism is co-curated by David Evans Frantz, curator at ONE National Gay & Lesbian Archives at the USC Libraries, and independent curator Hannah Grossman, with support from exhibition consultant Neal Baer, M.D. Lost & Found is organized by the ONE Archives Foundation. Generous support is provided by The Calamus Foundation of New York, Inc. and the City of West Hollywood
Image: San Francisco AIDS Foundation safer sex poster, 1992. Poster, 18 x 39 inches. Photography by Michele Clement. Design by Scott Sidorsky. ONE Poster Collection. ONE National Gay & Lesbian Archives at the USC Libraries.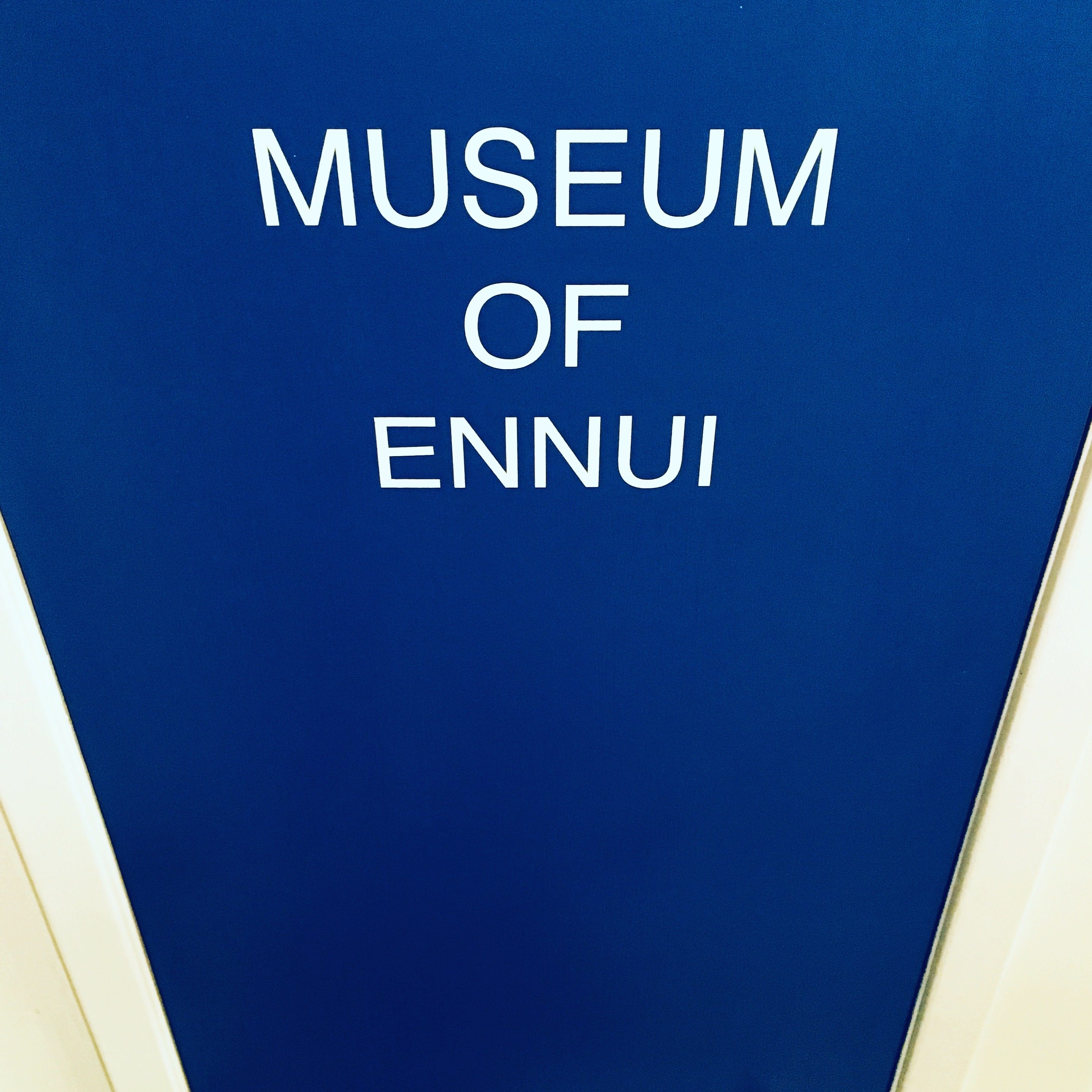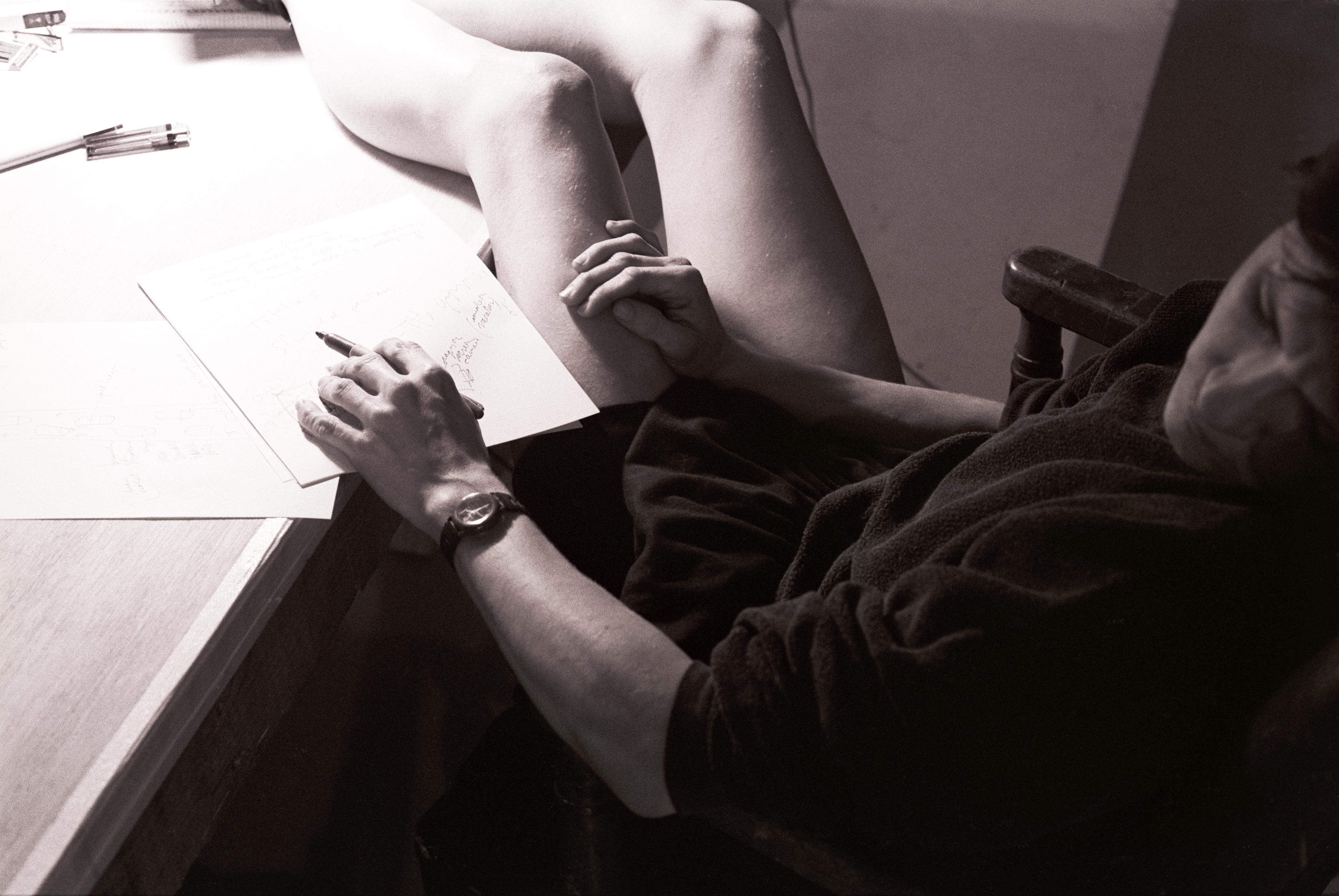 Martin Cox's Museum of Ennui
Link to exhibit
Grand Opening of 'The Closet in Shoebox Projects' presented by the Shed Collective
March 17 – June 3, 2018
Seen by appointment: The Closet at Shoebox Projects, 660 S. Avenue 21, #3, Los Angeles, CA 90031
Inspired by the museums often dedicated to a single subject or person dotted throughout Iceland, Cox developed the Museum of Ennui, as a mobile object that could alter in form and travel with all of its elements contained within its apparatus. In its second iteration for the Closet called Museum for One, the artist has added new additions from artists he is in contact with throughout the globe, as well as text and sound pieces. Though mostly digital photographs, Museum for One also includes drawings and mixed-media works. The piece's title refers not only to The Closet's architecture, who's maximum capacity is one person, but the concept of ennui as a state of being solitary.
21 artists will be represented at the museum of ennui including visual, literary and sound artists from the US, UK, Iceland, Canada, India, Germany, and France have responded with small art works. Participating artists: Anna Amethyst, Cynthia Minet, Douglas Hill, Gary Edward Jones, Jessie Rose Vala, Julie Murray, Katrina Alexy, Kim Abeles, Kirthana Devdas, Kristine Schomaker, Maggie Lowe Tennesen, Marina Rees, Martin Cox, Nataliya Petkova, Röðull Reyr Kárason, Rose Portillo, Ryan Hill, Sally O'Reilly, Sara Jane Boyers, Scott MacLeod, Thora Solveig Bergsteinsdottir.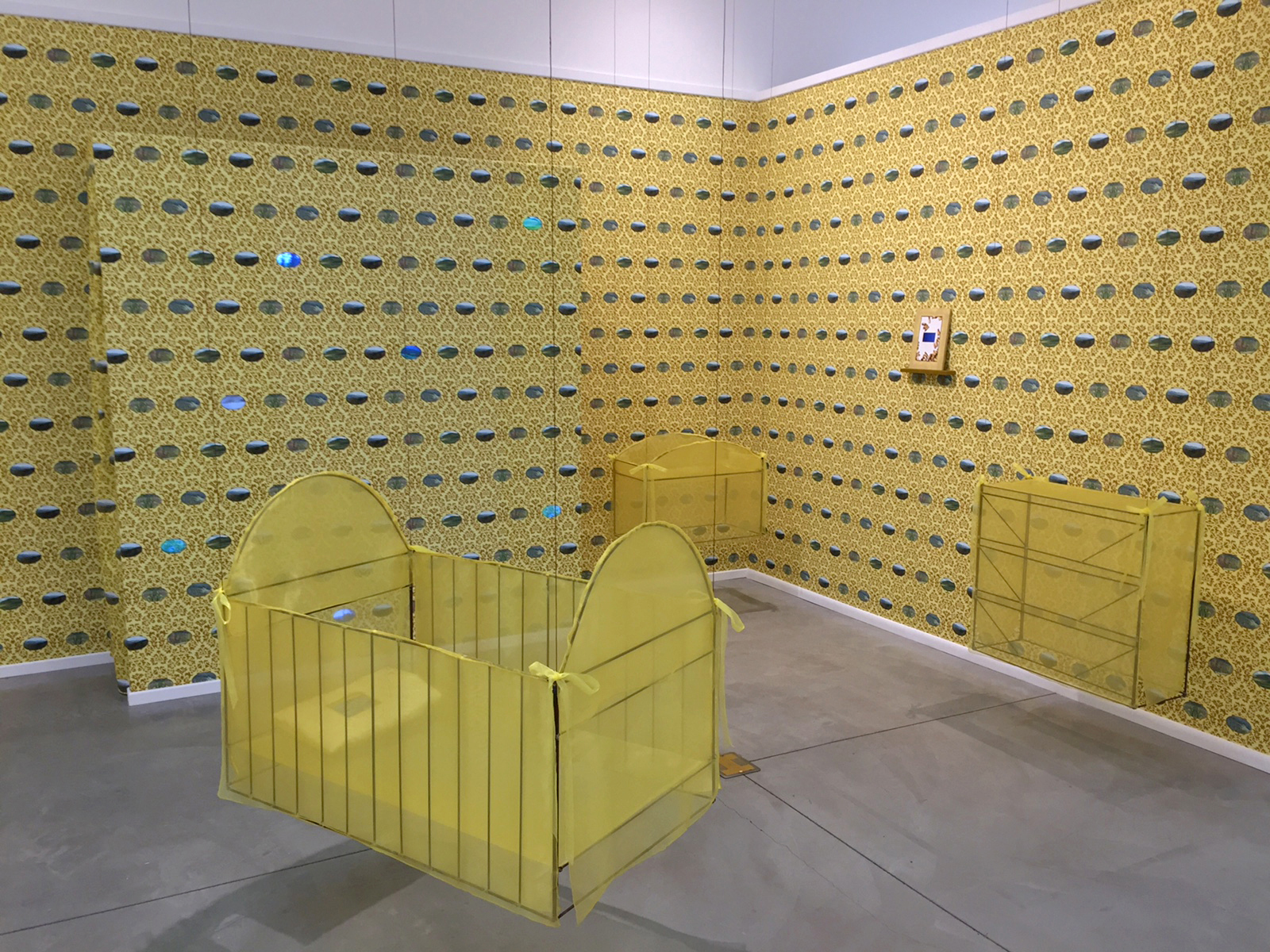 Sweet Dreams
Sweet Dreams  contains multiple videos embedded in wall created with hand-drawn and digital prints. Welded steel and chiffon baby furniture and ancillary artworks complete the installation.
Originally commissioned for the Sun Valley Center for the Arts, Sun Valley, Idaho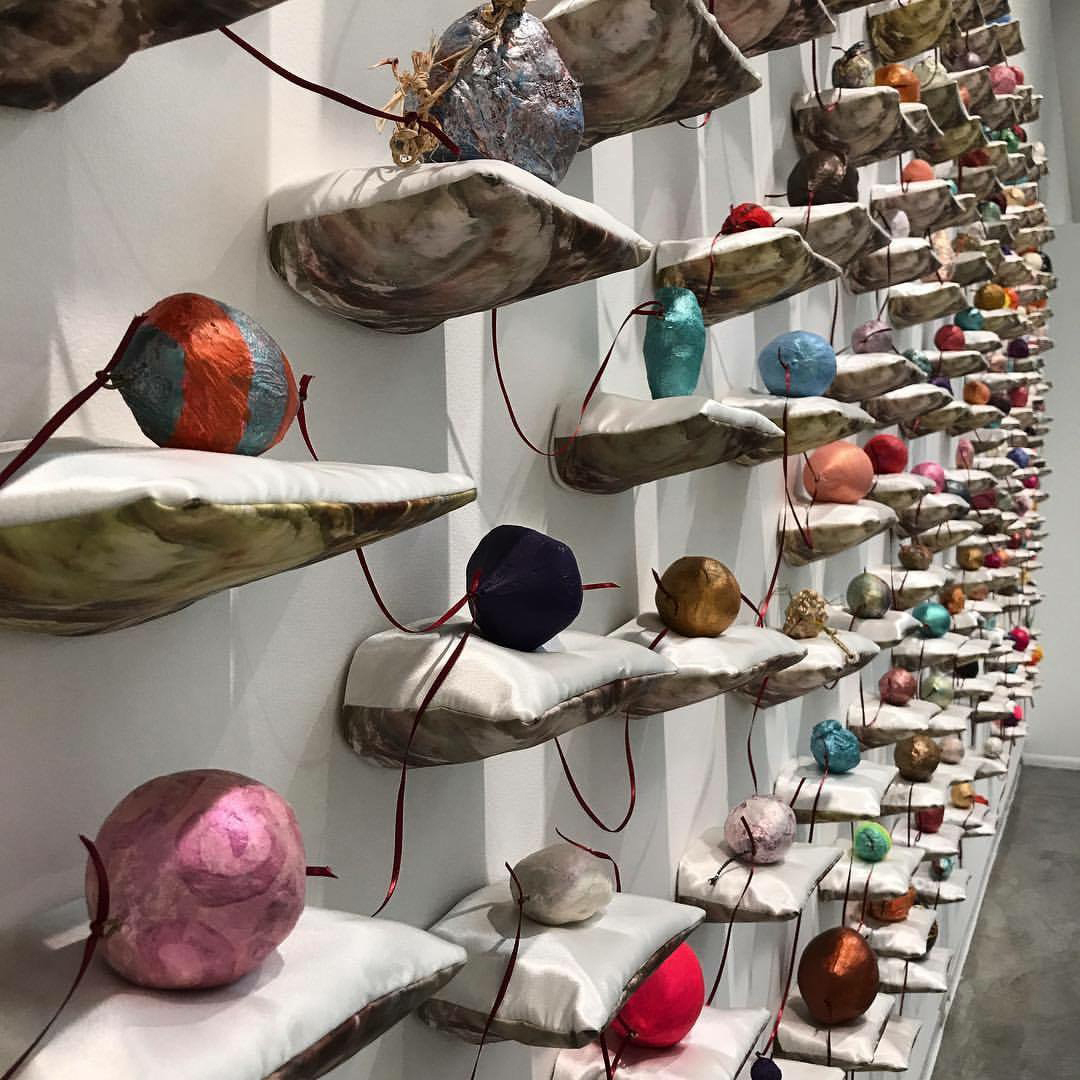 Pearls of Wisdom - End the Violence
Pearls of Wisdom - End the Violence (2011) is a mixed media and video sculpture and installation with sculptural "pearls" created by families moving beyond domestic violence. Abeles created the two-year project in collaboration with A Window Between Worlds and Funded by the James Irvine Foundation, City of Los Angeles Cultural Affairs Department, and additional funders.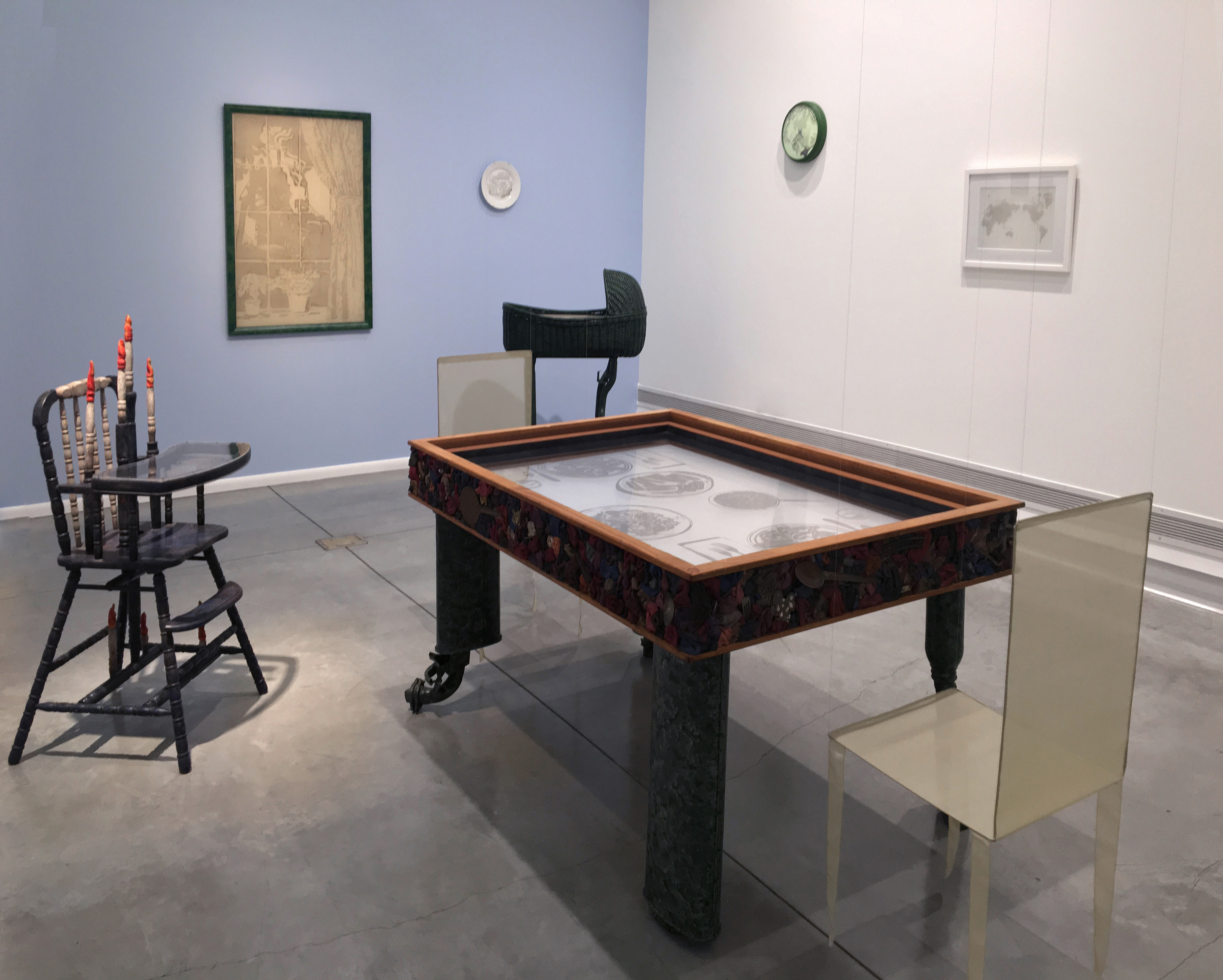 40 Days and 40 Nights (40 Days of Smog)
The dining room created with smog as its primary material was first exhibited in 1991. Particulate matter (smog) is created as images on glass, porcelain plates, and objects. Auto mufflers and detritus embedded in chiffon complete the sculptural table.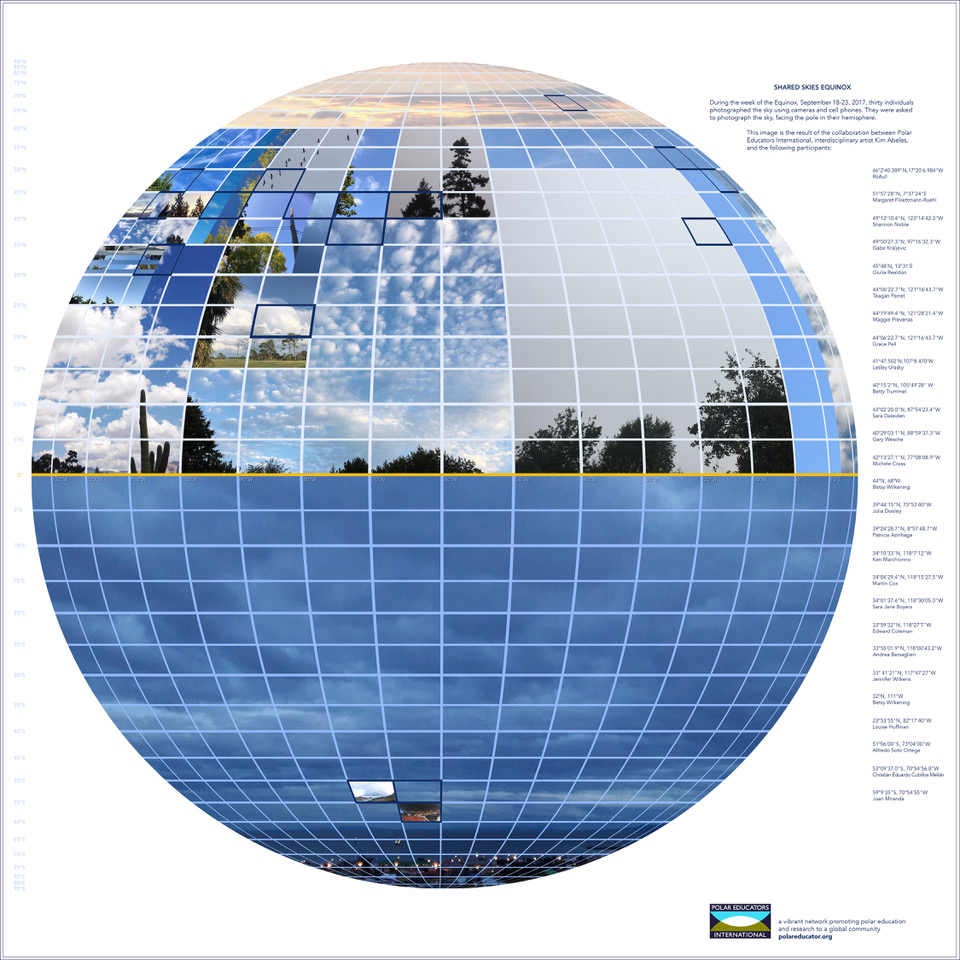 Abeles in collaboration with Polar Educators International
For this version of Shared Skies, international members photographed the sky during the week of the Equinox (September 22, 2017), facing toward the North Pole if they are north of the equator, and toward the South Pole if located to the south of the Equator. Abeles combined the images, the photographers' names and GPS coordinates into a print of the globe. As with all the Shared Skies artworks, each participant receives one of the prints in thanks for their involvement.